Discover more from Can we read?
Your weekly guide to children's books, raising readers, and how to build a culture of reading in your home.
Over 3,000 subscribers
I can't remember when I first discovered Leslie Bulion and her work — it was likely Spik-u: A Clutter of Short Verse on Eight Legs. I'm pretty sure I picked this title off the shelf at my favorite used book store and thought, "What the heck is this?" 😂
I was not disappointed, and — perhaps more importantly, the ultimate litmus test — neither were my kids.
Bulion has written 13 books — one picture book, three middle-grade novels, and a whopping nine science poetry titles.
Now I know some of you are immediately recoiling: poetry? Ick. And science? ACK!
But hear me out: if you've been here for any amount of time, you know I'm basically fanatical about reading poetry to children. After diverse and inclusive representation, it's the hill I'll die on any day of the week in this newsletter, and nothing has changed. I still stand by everything I wrote — a whole year ago now — in my (How) Can we read? issue on why poetry matters for kids. Go ahead, read that post — I'll wait.
So of course I adore Bulion, whose work brings the best parts of poetry to life and then doubles down on all that goodness by making all sorts of scientific topics come alive. (I also went off on the topic of the importance of nonfiction once upon a time, in an interview with author Melissa Stewart, which should convince you — if you're not already convinced — that science + poetry is brilliant.)
Don't believe me? I'll let Bulion tell you more about her special kind of magic in her excellent bio:
Leslie Bulion creates award-winning science poetry steeped in hands-on learning experiences, nature observation, research, humor and imagery in a variety of poetic forms. Her illustrated collections invite readers on multi-layered science adventures exploring spiders, birds, sea creatures, insects, amphibians, and more. Leslie's graduate science background and years as a school social worker inform both her poetry and her science-infused novels for young readers. She offers lively and engaging author visits worldwide. Her two newest science poetry books, Serengeti: Plains of Grass (2022) and Galápagos: Islands of Change (2023) take readers on poetic tours of two of Earth's remarkable ecosystems.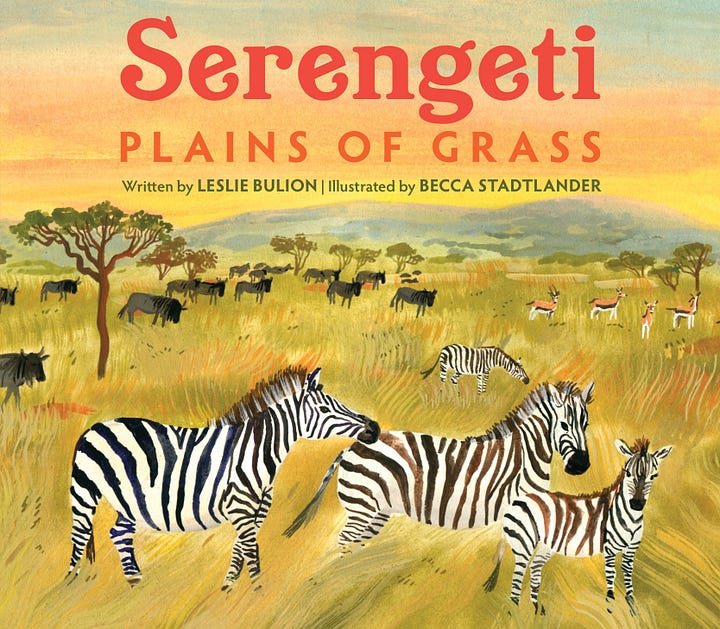 "Multi-layered science adventures exploring spiders, birds, sea creatures, insects, amphibians, and more." SIGN ME UP!
Maybe it's just me — I mean, it's often just me — but I'm willing to bet that, for those of you with young nonfiction lovers, it's worth getting to know Bulion better.
Let me help you do just that.
---
How long have you been writing for children? What called you to this work?
First, thank you for inviting me to your newsletter, and for your dedication to young readers, Sarah!
I wandered into writing for young readers via a lifelong fascination with science and nature and a poetry-writing habit nurtured since the fourth grade. I studied science in college and grad school, then social work, eventually becoming an elementary school social worker. I never imagined writing for children until my longtime editor friend encouraged my writer within, first assigning parenting magazine articles, then suggesting an anecdote I'd related to her would make a good children's story. I did not sell that story (or the next, or the next!), but as I delved into the art and craft of writing for children, I discovered how much I loved it! My first book for young readers, Fatuma's New Cloth came out in 2002.
You've written three middle-grade novels, and now you spend most of your time researching and writing science poetry collections. That's quite a leap from one genre to the other. How did that happen? And 
why
 science and
poetry together? 
I refer to my three middle-grade novels as "science-infused." My own adventures—and misadventures—in and on the Rhode Island coastal salt ponds as an oceanography grad student inspired some of the action in Uncharted Waters. Since I had somehow earned a Master of Science degree without studying physics, I hoped to work on that gap through string-theory-obsessed Miller from The Universe of Fair. The fourth-grade class in The Trouble with Rules studied insects because I took an adult-ed insect course during the summer I worked on their story.
When I finished the novel, I wasn't finished being fascinated by those remarkably elegant packages of adaptation and evolution we call insects. I thought poetry —elegant packages of information, imagery, word sounds, humor, and emotion — might be an exciting and fun way to communicate what I was learning. Hey There, Stink Bug! (illustrated by Leslie Evans) was my first humorous science poetry collection, and now I've finished six more, including Leaf Litter Critters, Superlative Birds, Spi-ku: A Clutter of Short Verse on Eight Legs (these illustrated by Robert Meganck), and the lyrical Serengeti: Plains of Grass.
I'm a huge advocate for poetry for children. You write on your website that — like me! — you've been reading and writing poems since you were very young, and "love the musical sounds of words in poems." Why do you think poetry is important for kids? Why should caregivers and educators include poetry in their libraries? 
When we read and experience poems we engage in creative higher-order thinking such as: making concrete and abstract connections, playing with words and meanings, inferring more than one idea or meaning from a word or phrase, and enjoying the music of language. It is as essential to introduce young readers to poetry as it is to offer them the entire reading smorgasbord — fiction picture books, the many types of nonfiction, early readers, graphic novels, middle-grade and older fiction in all genres, and more — so young and growing readers continue to discover genres that spark their current interests and learning styles. The music of poetry is an essential part of that banquet of riches.
As I work on a science poem, I distill ideas into such an economy of words that I ask each word to carry meaningful weight, at times even the weight of two or three ideas and poetic devices. Choosing just the right words deepens my understanding of a concept. This process is also wonderful for young writers as they learn to communicate ideas and information. I love sharing this writing process with young readers and writers when I visit schools and libraries!
This is a question I ask everyone I interview: what are a few titles, recent or otherwise, that have stood out to you as being so excellent you wish they were on the shelf in every home and classroom?
Since I have so many amazing and prolific writer friends, I can only answer this question with books by authors I don't know! Here are a few books that have meant a lot to me as a young reader or an adult read-alouder:  
More, More, More, Said The Baby by Vera B. Williams is my favorite baby gift, a read-aloud with lovely opportunities for reader-listener active participation.
When We Were Very Young and Now We Are Six by A. A. Milne were my poetry "spark" books the way birders talk about the bird that sparked their interest in birding.
Last year's Newbery Award winner, The Last Cuentista by Donna Barba Higuera, is a deeply-moving middle-grade novel I wish everyone the chance to read or listen to (the audio recording was marvelous) that brings readers the life-affirming, essential-to-humanity magic of story-telling on so many levels.
Finally, reading the National Book Award-winning young adult novel Challenger Deep by Neal Shusterman awakens and enhances tremendous empathy for people experiencing mental illness. It is a powerful, personal story that lingers in my heart.
What's next for you? Are you working on anything new you can tell us about?
My newest science poetry collection is Galápagos: Islands of Change (ed: it was published on March 21!) This series of poems, beautifully illustrated by Becca Stadtlander (the gifted illustrator of Serengeti), celebrates the unique inhabitants of the Galápagos archipelago's complex land-and-sea ecosystem as they are influenced by seasonal shifts in warm and cool ocean currents. As in Serengeti, the poems are accompanied by brief informational notes, a narrative introduction, and extensive back matter.
---
A big thank you to Bulion for taking the time to answer my questions. It has been such a pleasure to take a deep dive into her work, and I can't wait to get my hands on Galápagos. (It sounds like a great read for summer!)
For more information about Bulion's work, visit her website. And be sure to seek out her books at your local library and bookstore. They are so much fun, every single one.
Thanks for reading today, and always,
Sarah
P.S. Bookshop.org links in this post are affiliate ones — meaning I get a tiny commission if you use any of them to make a purchase. I appreciate your support!