Discover more from Can we read?
Your weekly guide to children's books, raising readers, and how to build a culture of reading in your home.
Over 3,000 subscribers
Spotlight On: Counting Books
Counting on counting books
Good morning! If you're new here, welcome, and thank you for signing up for my little labor of love and delight. If you're interested in browsing through the past six issues, you can do that here. (I cannot be held responsible for how many books you may purchase after doing so 😚)
So: this is a bit different than a regular issue. Once in awhile I'm going to do a deep-dive "spotlight on" a particular type of book. Spotlights will differ from special editions (I've done one special edition thus far, on summer books) in that they're entirely arbitrary and I'll probably only do them once — whereas special editions will be seasonal, will reoccur, and will be updated each time with new finds. At least that's the plan for now.
This time, counting books! Because you can never have two many! (See what I did there? WHEN CAN I GO BACK OUT INTO THE WORLD?) This particular genre is rather endless — there are many excellent titles that I am unaware of, and many that I am aware of and have not included here — but these have been our perennial favorites, and these are the ones I feel like writing about, so here we are.
---
One Hungry Monster
by Susan O'Keefe, illustrated by Lynn Munsinger (1989)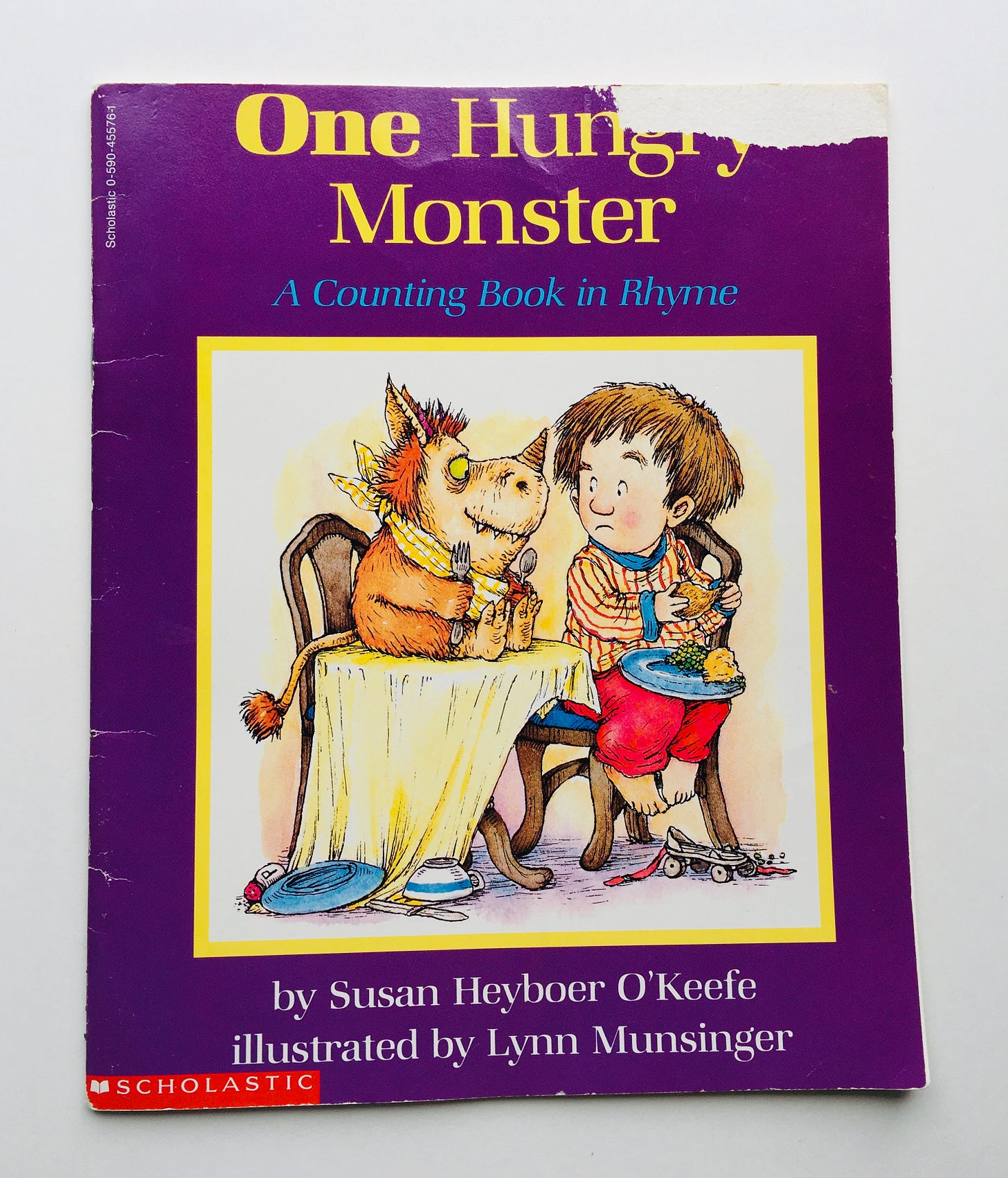 I love Lynn Munsinger's illustrations — they are crispy and precise and she tends to partner with authors who write humorous stories, and this is one of those titles. Here the reader accompanies a little boy who endures a home invasion of aggressive, messy, terribly ill-mannered monsters. The rhyme increases monster by monster: "Five hungry monsters sliding down the rail, munching and crunching on one another's tail. Six hungry monsters underneath the rug, tracking down some footprints to catch a tasty bug." Eventually the boy acquiesces to their increasing demands, bringing in a string of numbers of his own: "So I bring out 1 jug of apple juice, 2 loaves of bread, 3 bowls of spaghetti that they dump upon my head…" It's great fun to read this, linguistically but also contextually — the rhythm here is absolutely perfect and I would never interrupt it, except that I can't help snorting at the pictures (the monsters' peanut butter lipstick gets me every time), which of course only adds to the fun, for me and my kids. This is a rollicking and super enjoyable read.
---
One Gorilla
by Anthony Browne (2012)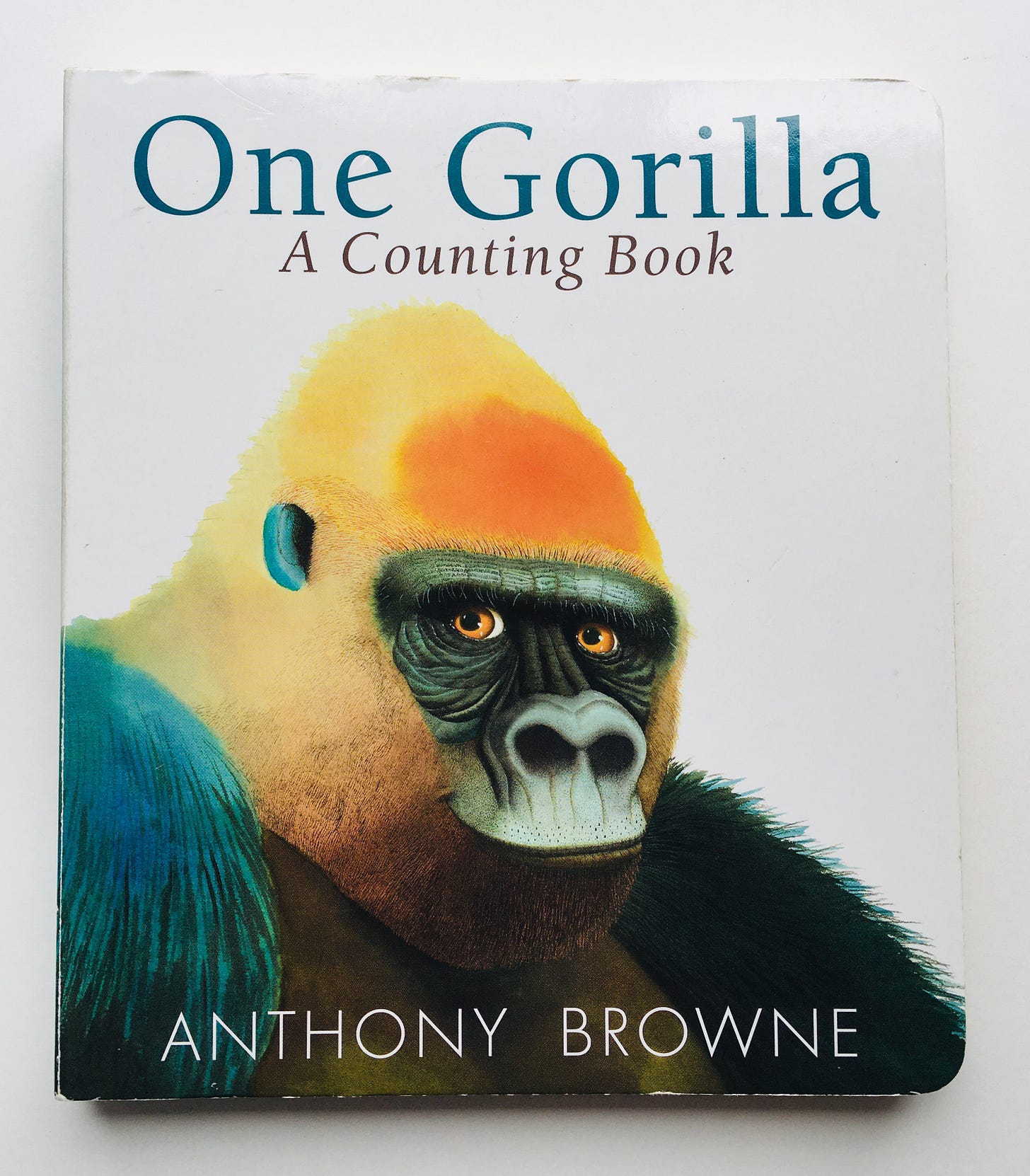 This title is about as simple as counting books get — it's a board book, and there is one number and one primate on every page ("1 gorilla, 2 orangutans, 3 chimpanzees") — but don't let the simplicity of its structure belie its worth: Browne's up-close illustrations are exquisitely rendered. And the variety of primates is wide enough that it's likely the first time many children will come in contact with their names, mandrills and macaques not typically starring in too many titles, especially for the board book crowd. Get this for your 1s, 2s, even 3s, get it for a baby shower gift (no one needs a sixth copy of Goodnight Moon, trust me) — it's just gorgeous.
---
One Gorilla
by Atsuko Morozumi (1990)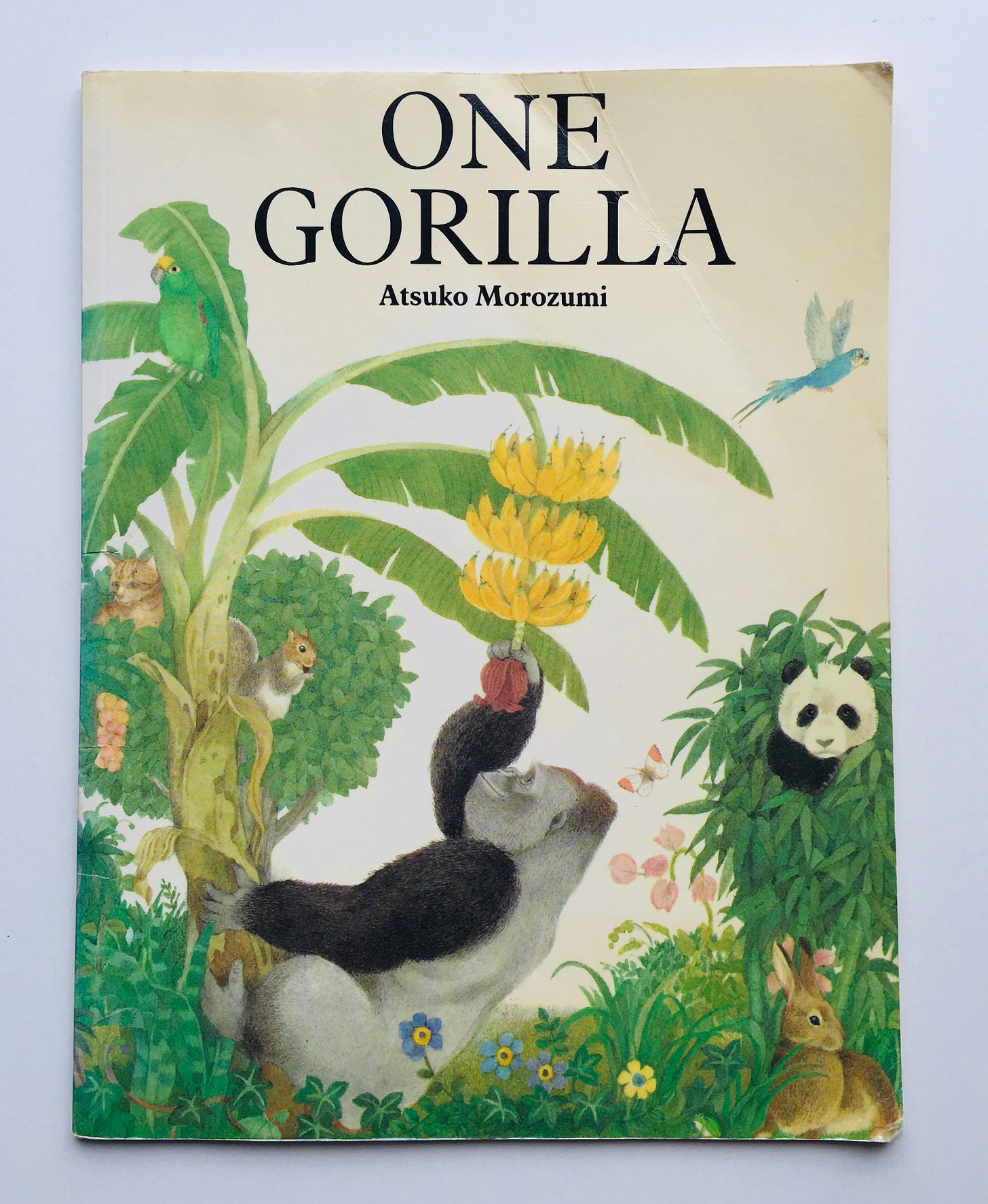 I don't know why I think this storyline is so sweet — there really is no storyline, no dialogue — but the gorilla's expression on nearly every page, as well as the safe, beautiful world he inhabits, just exudes sweetness. Presented as a list of things an unknown, unseen narrator loves ("Here is a list of things I love. One gorilla. Two butterflies among the flowers and one gorilla."), the action unfolds from that unseen someone's point of view: when we see the gorilla among the flowers (and later, from a sitting room window) it's clear this might not be the gorilla's real world. Maybe the gorilla simply lives in the heart of the person who sees it everywhere. No matter — the lush illustrations and the double-layer of numbers here (the number is part of each sentence, but so are the animals the number names, e.g., "Seven frogs by the fence and one gorilla" gives readers not only the word "seven" but seven frogs to count inside the scene, and sometimes the gorilla is a bit hidden, which makes this excellent on a variety of levels). For a seemingly simple book, there's a lot here, and the lot is lovely.
---
Baby Goes to Market
by Atinuke, illustrated by Angela Brooksbank (2017)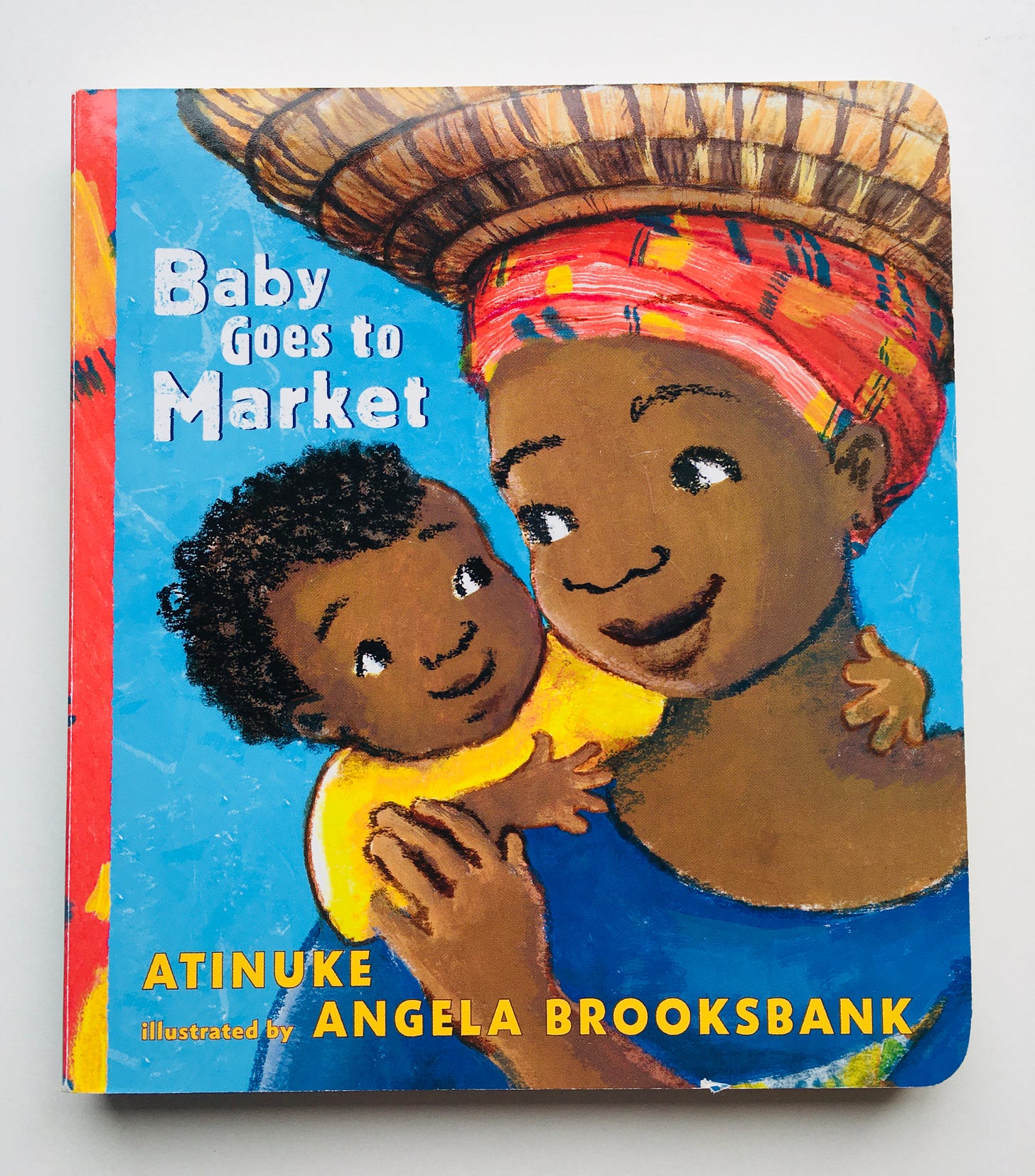 If you don't know Atinuke, remedy that today. TODAY. (Start with Anna Hibiscus. Especially Anna Hibiscus on audio, which makes me literally LOL. Go from there.) She writes fantastic books for children — picture books, chapter books, whatever it is, you can assume it's worth checking out or buying sight unseen. This title is no exception — and though Atinuke usually teams up with Lauren Tobias to illustrate her books, Angela Brooksbank does not disappoint here. It's with great visual delight in color and detail that the reader travels along with Baby and Mama as they visit the market to pick up the things they need. At each stall, Mama buys something and Baby acquires something extra, adding it to the basket on Mama's head without her knowing. A sweet, colorful, winning tale about not just counting, but also community care, I cannot recommend this one enough.
*Note: this is an #ownvoices book, so if you're looking to expand that part of your library, this would be a fantastic addition
---
Counting Crocodiles
by Judy Sierra, illustrated by Will Hillenbrand (1997)
I have a rule that if I check a book out of the library three or more times, I buy it, and this will end up being one of those titles (we're on our third borrow now): I don't ever get tired of reading, "On an island in the middle of the Sillabobble Sea lived a clever little monkey in a sour lemon tree," nor do we tire of the monkey's antics as she tricks a succession of crocodiles into lining up across an expanse of water so she can reach a banana tree on another shore. Judy Sierra is a master of her craft, and her rhymes here are as impressive as they are fun ("seven crocs juggling crocks"). (I point this out because more and more often I run across rhymes that are forced and difficult, as if the author never once read them aloud). I won't give away the end — you'll have to read it for yourself to see if the monkey succeeds — but I highly recommend a visit to the Sillabobble Sea.
---
How Many Cats?
by Lauren Thompson, illustrated by Robin Eley (2009)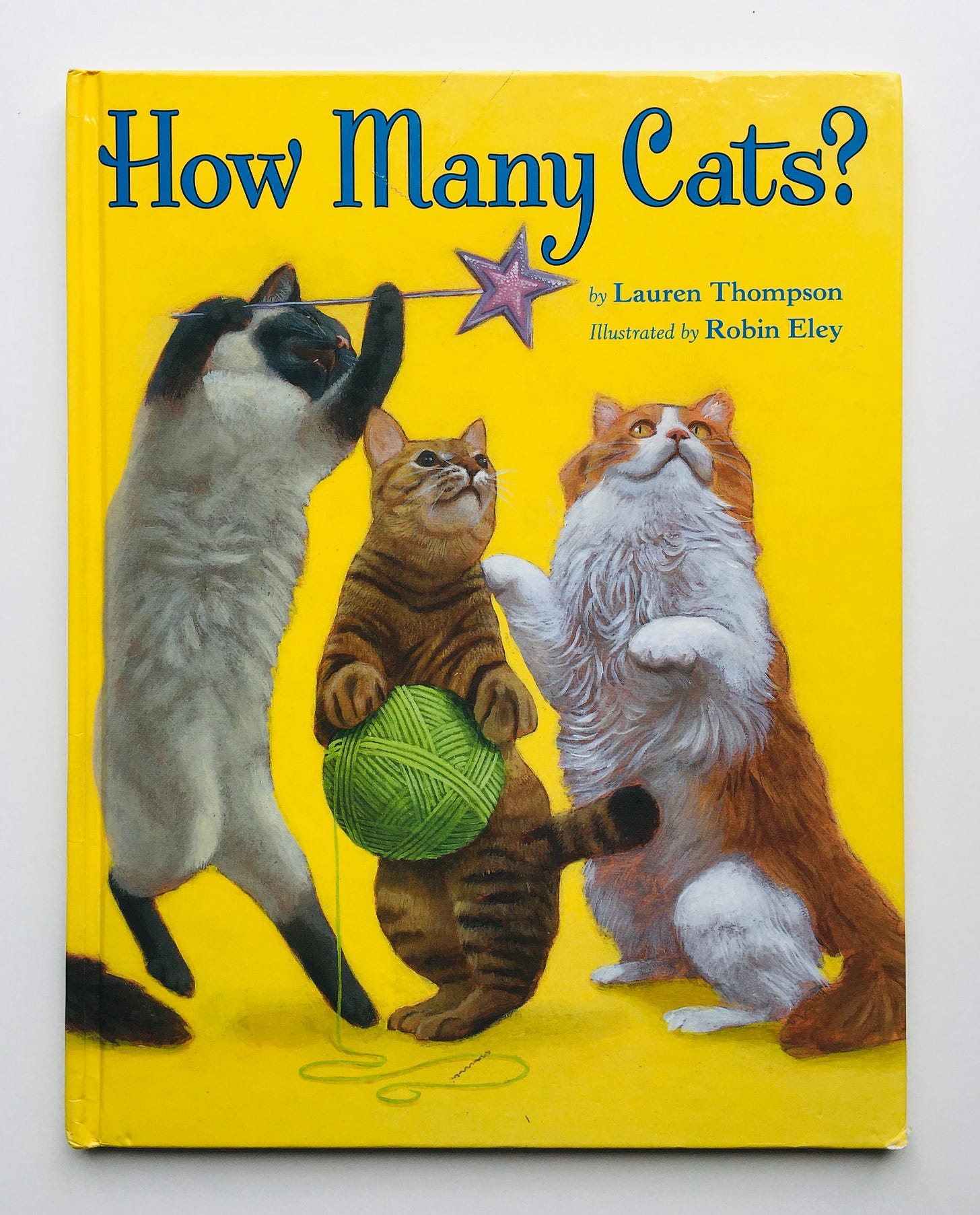 I know counting books are math books, but I also think of counting books and math books as slightly different things — the former is a subcategory of the latter, and the latter is so large it includes subjects I barely think of as "math." (That's not saying much, for what it's worth — as I mentioned recently, I'm down a math book wormhole right now and learning my way out.) Anyway, in this instance, this is a counting book but it's also an arithmetic book, specifically focusing on addition and numbers up to 20. Younger children who aren't quite ready for the numeracy of that will enjoy this one for the sheer absurdity of the story: sure, a couple cats in the house is fine, but five? Six, seven, eight, nine? Eley's illustrations really shine here, as the cats just keep coming: "Then with a cheer, two more playful pals appear. How many cats in all? Plenty! Now they number nineteen, twenty. Twenty cats jump and jive, frolicking in four rows of five." Older kiddos — early elementary — will love the crazy story and maybe pick up some number facts as well.
---
Ten Cats Have Hats
by Jean Marzollo, illustrated by David McPhail (1994)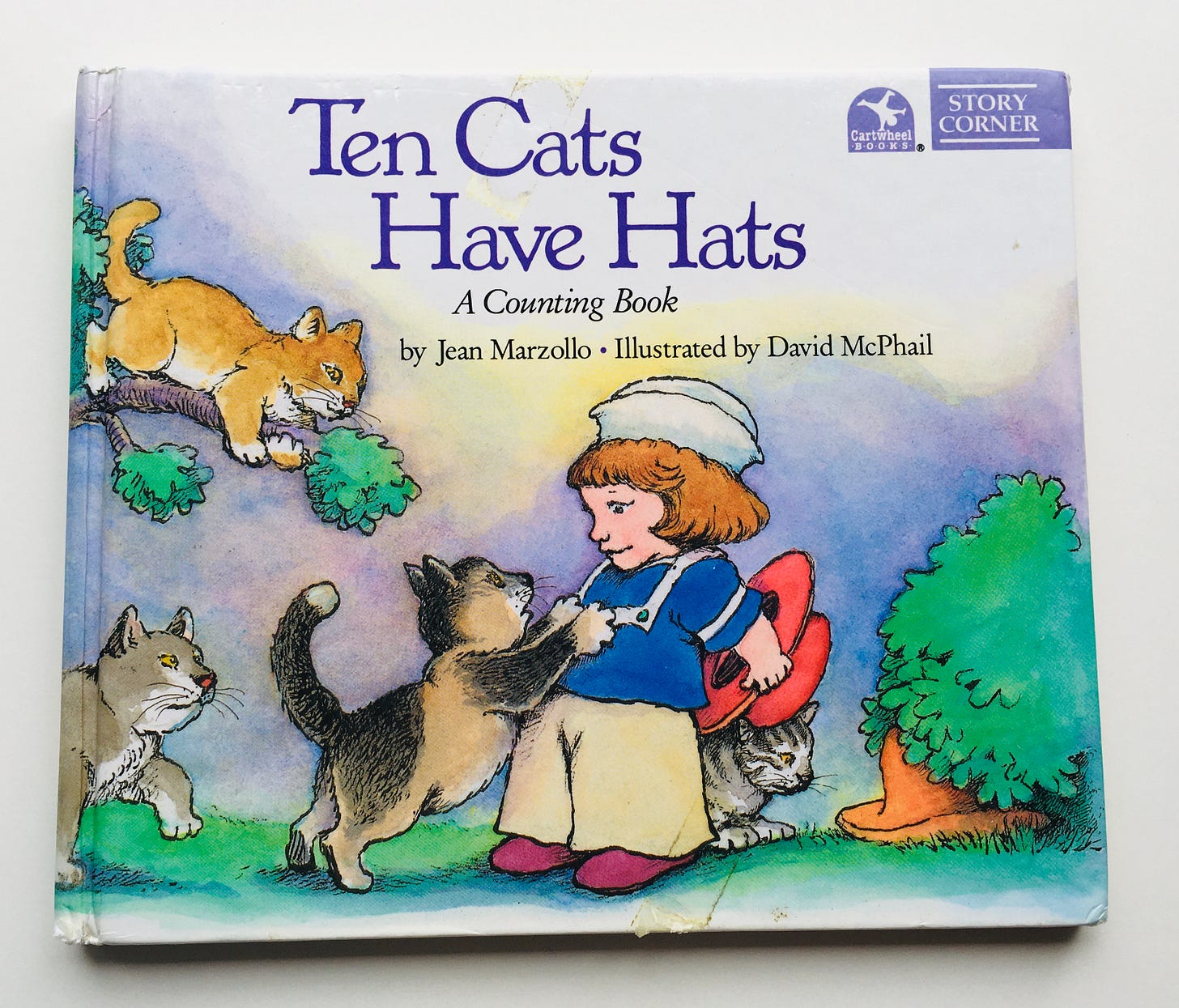 When my children and I were going through our many bookcases trawling for counting books, I grabbed this one and held it to my heart while they just looked at me. "We don't know why you like that book so much, MOTHER," the six-year-old said, her voice an audible eye roll. I know, I know. You also don't know why I insist on brushing hair every day. (Do you know the six-year-old creature? Louise Ames Bates describes them as "loving and defiant." Uh, YES.) So full disclosure: I think this is a great book — a jaunty little girl goes around in her imagination wearing various hats in the company of all kinds of animals, and McPhail's illustrations are as amusing and delightful as they ever are (which is always) — but others in my house do not. So. Procure it to make up your own mind… but I think I'm a pretty good judge of these things. Don't tell my children.
---
Billions of Bricks
by Kurt Cyrus (2016)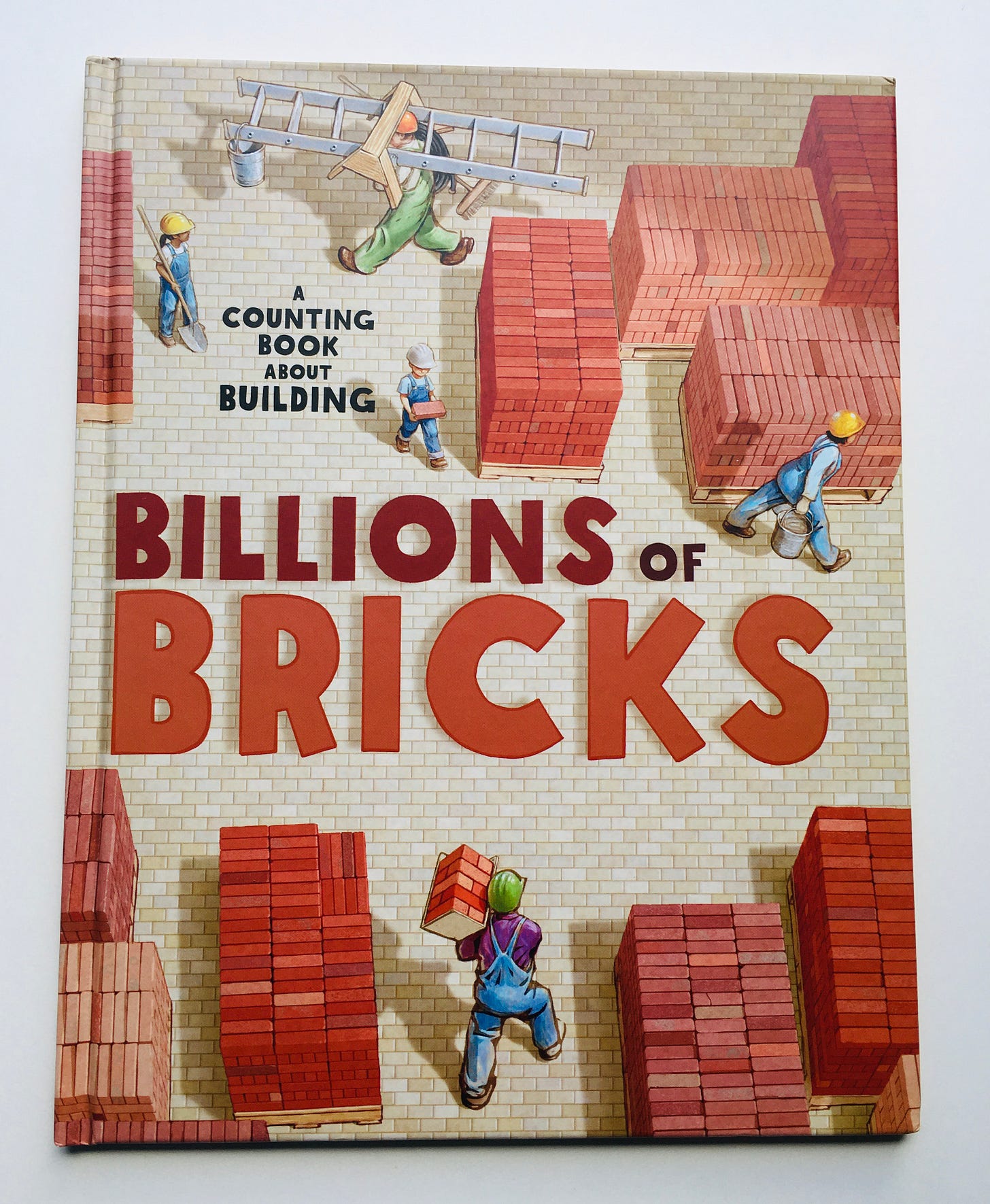 I'm not sure there's any greater alliterative fun to be had than with the letter "b" — it's ridiculously pleasant on the lips, isn't it? (You're trying it out right now, aren't you.) Billions of Bricks has plenty of reading delight where that comes from — rather than simply rhyming, this title is chock full of assonance, which makes it particularly satisfying. And instead of counting by ones, the focus here is skip-counting, variously by twos, fives, and tens, as the reader watches an ambitious building project from beginning to end — "Two, four, six. Another batch of bricks! Big and small, we use them all. Two, four, six." Cyrus deserves credit here for deviating from the norm amongst construction books, which are by and large at the very least full of men, if not white men, by depicting women in these scenes, as well as children, and he is just as conscious of skin tones. These things may seem nuanced, but they're not — as I've said before, this is the important stuff. This title is a quiet pleasure.
---
What are your favorite counting books? Reply and I'll compile a list to share here next week. One can never have enough counting books. (Pun 110% intended.)
Thanks for reading, y'all!