Can we read? No.18
Vroom-chugga-chugging along
Good morning. I hope this finds you well on this Wednesday morning, with snow if that's your jam, without snow if you feel horrified that is has already begun 😲🥴🙅🏻‍♀️ It's bare here but my kids are already wearing their wool pants every day, so it's coming.
If you have a minute, would you give me some feedback? I am trying to improve this newsletter. When you're done reading this issue, if you'd hit reply and tell me something you'd like from me, I'd deeply appreciate it. One thing, more than one thing, anything. An idea for something I'd write about once-in-awhile things, an idea for something I'd write about regularly, additional sections of this newsletter, additional mini newsletters each week (random topics, miscellaneous items?), any ideas you have. (Thank you!)
Now: would you look at these two cuties posing with the spoils of their first library book sale? (I neither confirm nor deny that I have rolled around in a pile of books upon returning home from a sale.)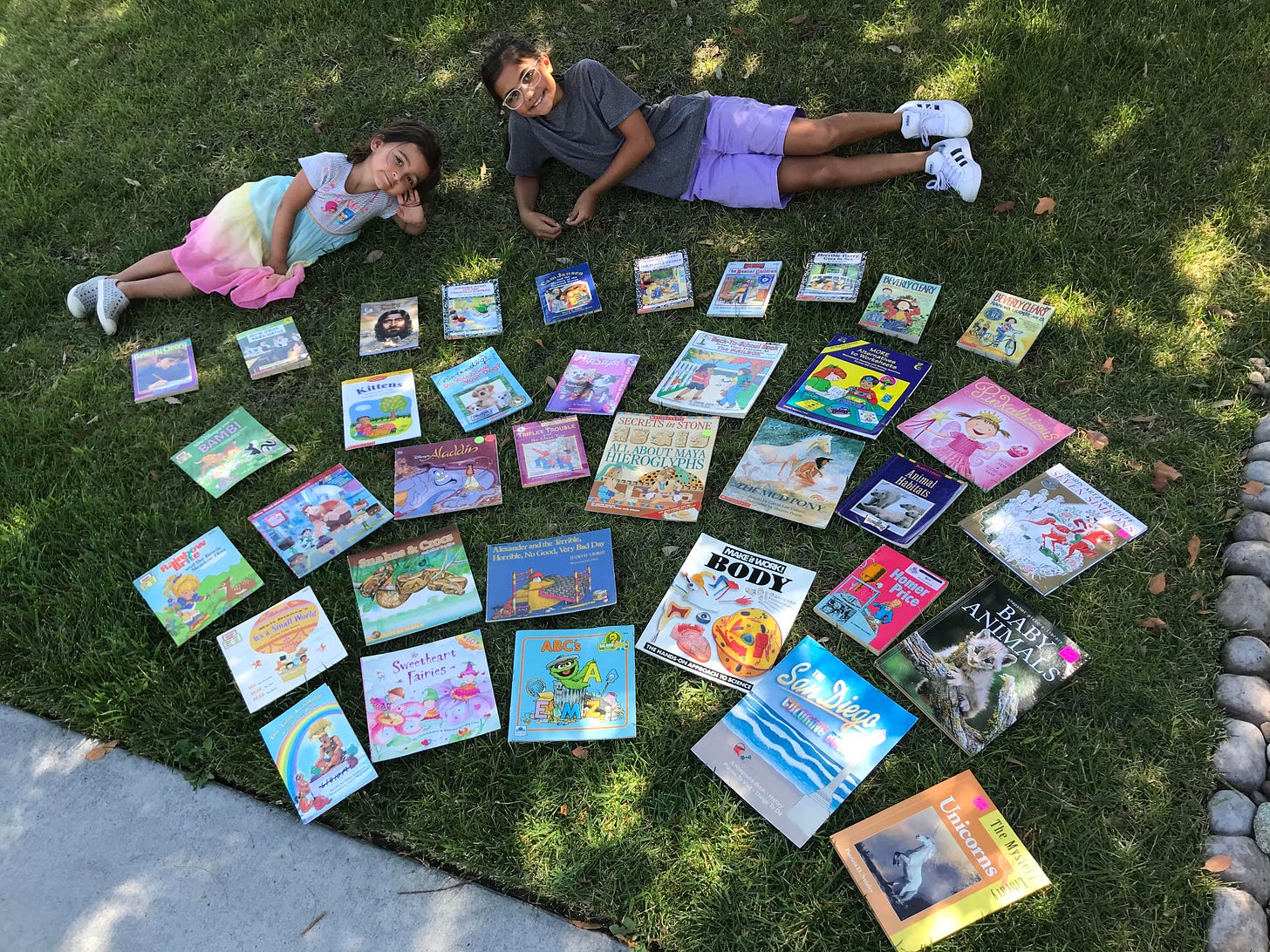 Thanks to my old friend Praveen for sharing this photo of two of his sweet little readers, Daamani and Suri. (It's so strange to think that not only do I still know a few people from high school but that that was 20 years ago. Say what you will about the internet — and I've said plenty — I feel privileged to be able to watch people I've loved grow into their grown-up selves, with amazing lives and often, small humans, and think, I still remember your face at 17; thank you for all the times you made me laugh. Life is weird and wonderful, no?)
Okay, onwards.
---
The Boy Who Wouldn't Go to Bed by Helen Cooper (1996)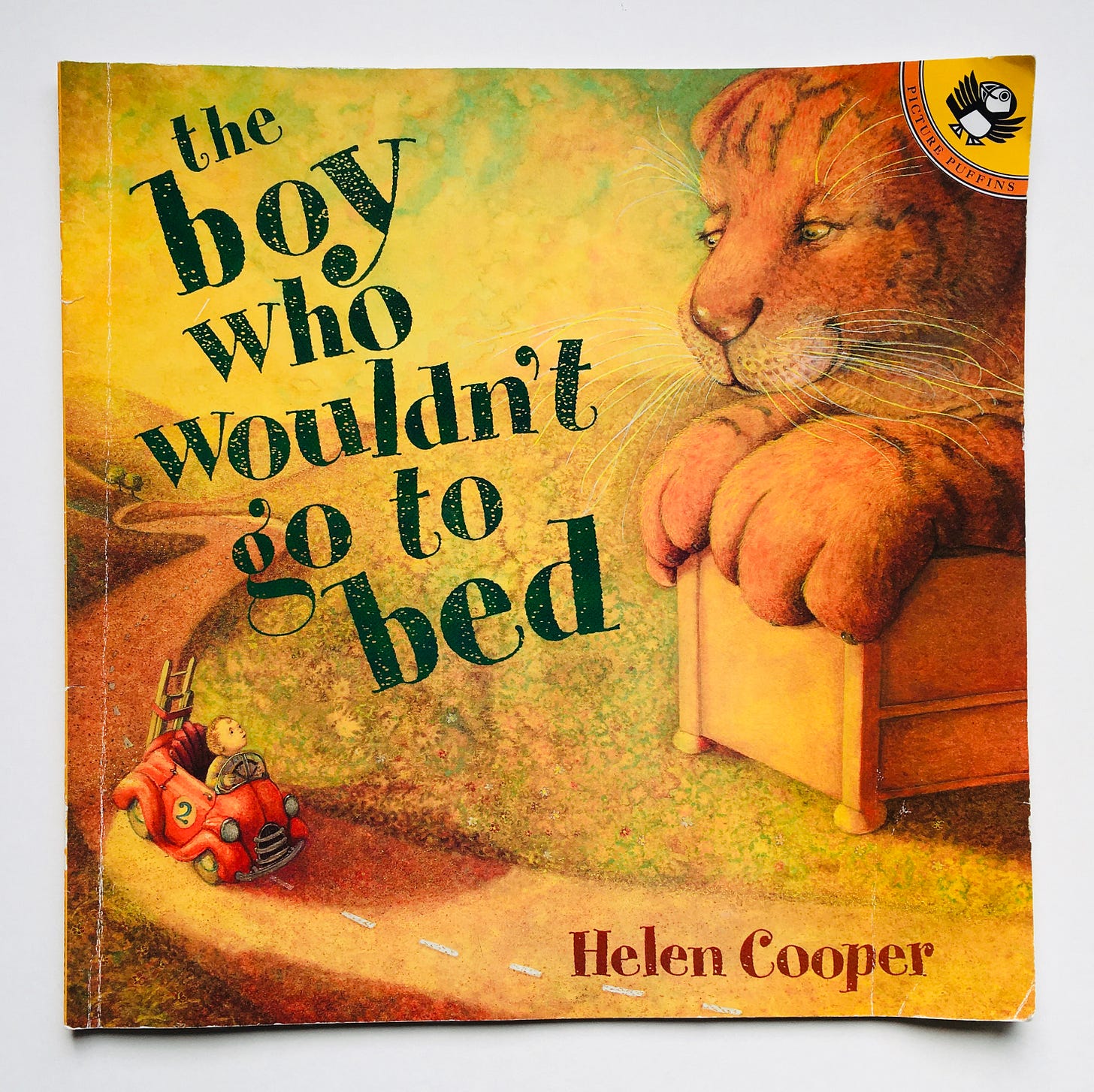 "'Bedtime!" said the mother. 'No!' said the boy, playing in his car. 'It's still light.'" Have you been there? If you haven't, lucky you. For the rest of us, this is a familiar story of a child refusing to go to bed — up until the little boy revs up his car, "vroom-chugga-chug," and drives away as fast as he can into a whimsical fantasy land where he comes upon all sorts of creatures. He asks each one of them to play (a tiger at roaring, a troop of soldiers at a parade, a train at racing, a group of musicians at partying and dancing all night), but they all decline because it's late and they're too tired, and eventually even the boy's car stops, having fallen asleep too. The boy finds himself "quite still, awake and alone, with the sleeping world around him," until rescue comes in the form of someone else who is not asleep, someone who can't go to bed until the boy does. Cooper writes such excellent books — her illustrations here are evocative and visually interesting, containing all sorts of little hidden clues as to what's really going on (where the boy really is) — but my favorite part about this one in particular is the mother, who comes and finds him in his imaginary land. Her love for him — and the tenderness she exudes in what is, at least in my house, one of the most difficult times of parenting, the last 15 minutes before bedtime — suffuses the whole book and puts a warmhearted spin on the boy's defiant quest to stay awake (maddening for parents, life goals for children). Somehow, on all its levels, this title manages to be the whole package.
---
Joan Procter, Dragon Doctor
by Patricia Valdez, illustrated by Felicita Sala (2018)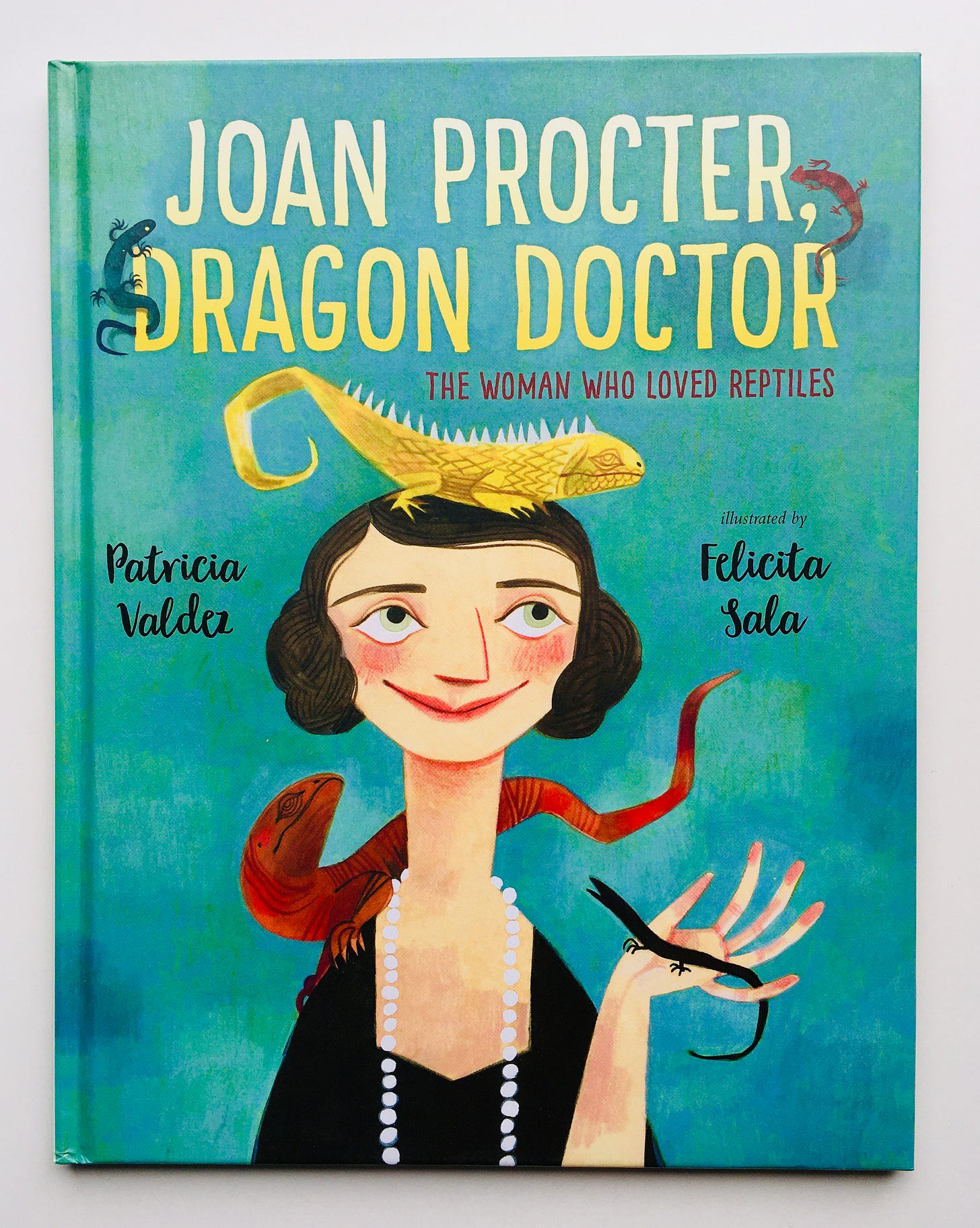 Joan Proctor was a world-renowned British zoologist and herpetologist whose passion for reptiles began at a very young age and left an enormous impact not only on the British Museum and London Zoo, but the field of natural history as a whole. This book is an accurate, well-written account of her life story, beginning when she is a small girl hosting tea parties for lizards, following her strange (even for now) escapades (bringing her 16th birthday gift, a small crocodile, to an unsolicited appointment with the curator of the Natural History Museum) and successful career, all the way through her introduction of the Komodo dragon to London and the world. I love using living books to teach my children about any subject — they're infinitely more interesting and, I believe, much better tools for actual, lasting learning than textbooks or most kids nonfiction books on the market — but they exist on a spectrum for sure, like anything else. This title is on the high-quality end: there is enough to be found in both the text and the illustrations for ten different conversations (and since this is one of my 6yo's favorites, we have them all), which is perhaps the highest compliment I can give. Entertaining, informative, interesting: everything I want in a read, for any age.
---
Max and the Tag-Along Moon by Floyd Cooper (2013)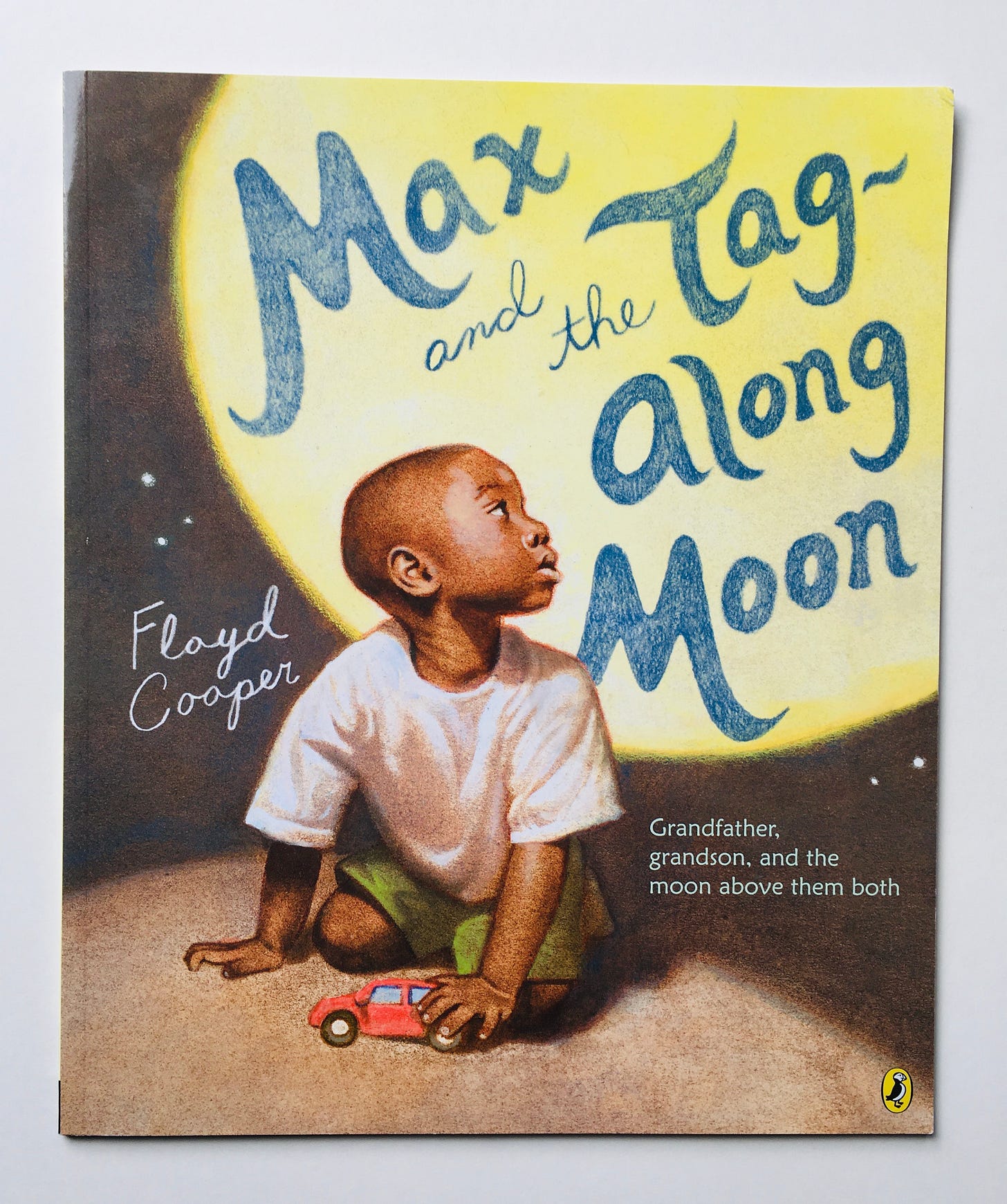 When I was a little girl my grandpa used to tell me that when we were apart, if we looked up at the night sky, we could remember we were both under the same moon. (He also used make me the offer, when he was tucking me into bed on the nights I spent at his house, "I'll dream of you if you dream of me." He was the best grandfather a girl could ask for; he died when I was 17.) Those memories make Max and the Tag-Along Moon both lovely for me to read, and difficult. The premise is much the same as it was for me and my own grandfather: one night as they are parting, Max and his grandfather look up at the moon together, and his grandfather says, "That ol' moon will always shine for you… on and on!" Max watches the moon out the car window all along the "swervy-curvy" ride home as it "plays peekaboo," bounces along, but stays quietly with him. When the moon disappears Max doubts his grandfather's words and crawls into bed, missing his loved one, missing "that tag-along moon," until very slowly, his room fills "with a soft yellow glow." Floyd's fuzzy, moonlit illustrations go well with this fuzzy, moonlit story, which is as gentle and calming as a lullaby — a loving (and lovely) reminder to children, without saying so directly, that they are held by the moon's light, as well as the light of love.
---
A Lot of Otters by Barbara Berger (1997)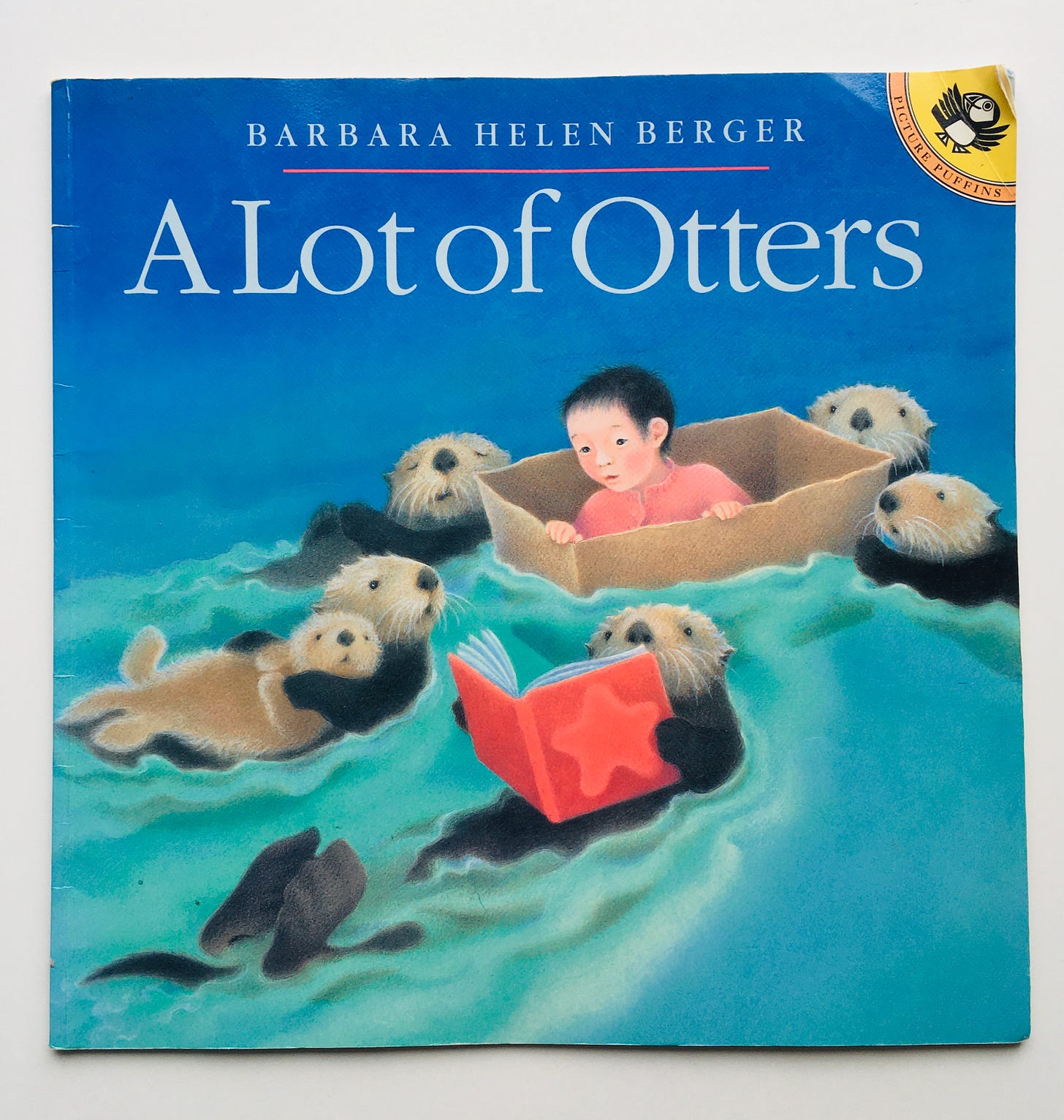 Like all of Berger's titles (including the ones I've reviewed before), A Lot of Otters is a weird one, but I say that in the most complimentary way. I love the other-worldliness of her books, her soft and dreamy illustrations, her stories that are equally comforting, bizarre, and somehow satisfying to the soul. This title delivers in all of those ways, with perhaps even extra emphasis on the dream-like qualities of her work. Here, the story opens with a small boy floating on a body of water in a cardboard box, and Mother Moon is looking for her child: "Where is my moonlet? Where is—" The boy accidentally drops his book into the water where a lot of otters find it. Mother Moon continues to call for her child, crying tears that turn into stars that fall into the sea. The otters chase the stars, taste the stars — "they wrestled and rolled and rubbed the starlight into their fur" — until all this activity catches the attention of Mother Moon, who looks down and finally sees her little one, "safe with a lot of otters in a sea of stars." If you're thinking the depiction of all of this is probably a bit strange and also lovely, you're exactly right, and that's exactly what this book is: a bit strange and also lovely. I love it.
---
First Art for Toddlers and Twos: Open-Ended Art Experiences by MaryAnn F. Kohl (2002)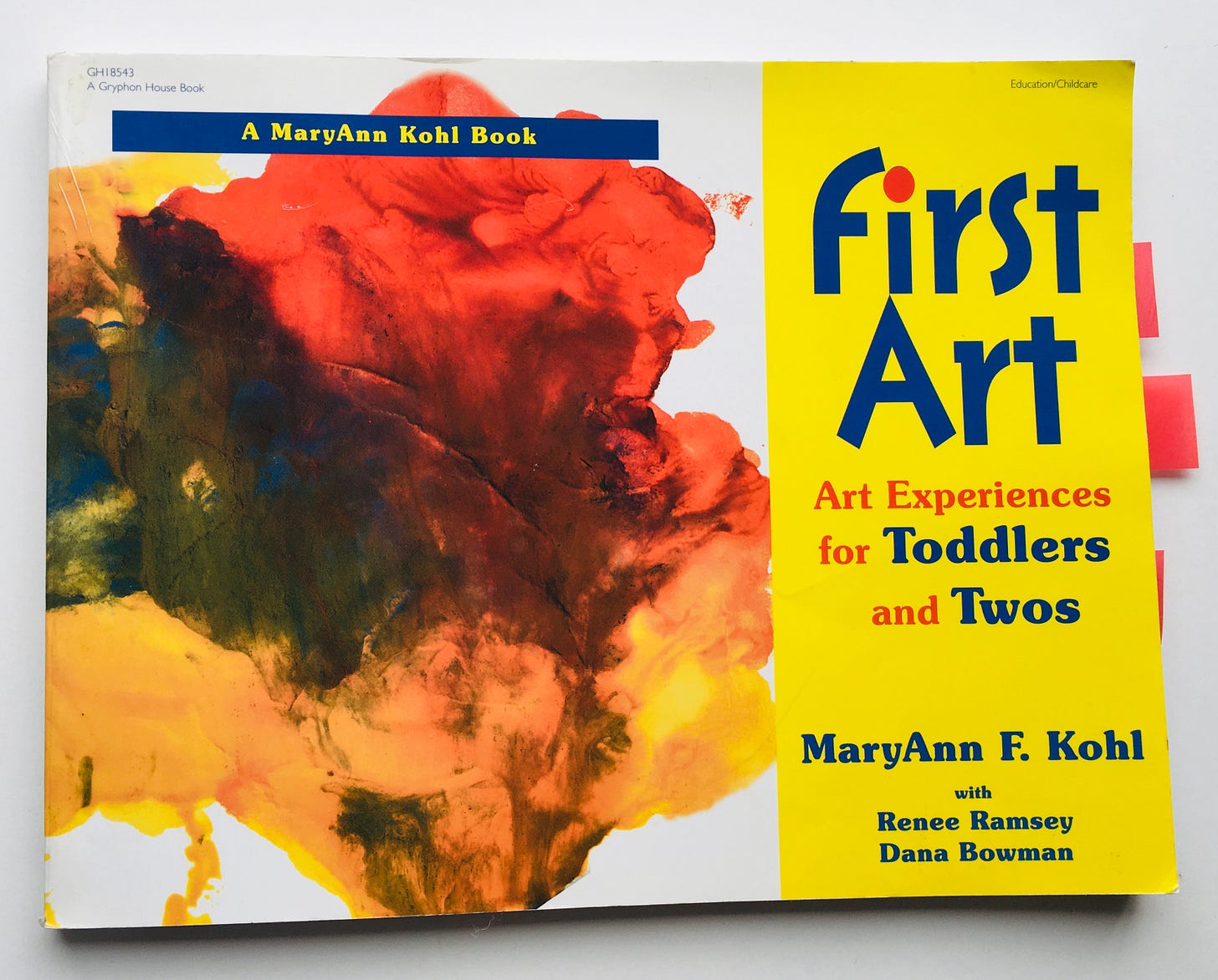 Do you know MaryAnn Kohl? If the answer is no, consider this your introduction: newsletter reader, MaryAnn. Yes, this is a book for the tiniest of children; yes, it is still my favorite book of hers (and I have many). Even so, I could have picked any one of her titles off my shelf to share with you and I'd stand behind any of them, that's how highly regard Kohl, her philosophy (process over product, process over product, process over product), and her ideas for children. I really cannot recommend her books enough. This one contains some of our favorite art experiences to repeat again and again (and again), and lest you forget: I no longer have toddlers or twos, these "projects" are just that satisfying and, I believe, do much to develop what Waldorf education would consider the energy and spirit of children. (This is a simplistic explanation but I will spare you the pedagogy. In short: dough and clay are important. The end.) Kohl's recipe for Stretchy Dough remains our favorite of all time (even I cannot keep my hands off it, the sensory pleasure is so deep). Not every experience is Stretchy Dough, not every one of her books is a winner from beginning to end, but: I don't need an art project book that tells me how to teach my kids to create a perfect, single-outcome thing. I don't care about that in the least. This book is all what you make of it — it's all the process, not the product, and damn if I don't think that's a pretty good motto not just for art but for life — and that makes this title, all her titles, stand out above the rest.
---
Thanks for reading today, thanks for any feedback you're willing to send my way. Wishing you snowflakes or clear skies, and whatever you need most right now.