Good morning!
ICYMI: I did my special Halloween edition last week. We borrowed a few additional titles from the library since then and they're worth belatedly adding to my recommendations:
Halloween Night by Arden Druce

Queen of Halloween by Mary Engelbreit

The Soup Bone by Tony Johnston
And: it's not too late to read to your kids about voting: here's a good list I found of five picture books. I'm not familiar with all of them but I do like Vote For Our Future by Margaret McNamara very much.
Let's get to it.
---
David's Drawings by Cathryn Falwell (2001)
"One gray winter day, David saw a beautiful tree." When he gets to school, David gathers supplies and sketches "his" tree — immediately his classmates are drawn (no pun intended) to his task, each making their own suggestion and contribution, until they have all made a picture together. At the end of the day, they label it, "Our Class Picture" and hang it on the wall. David heads for home, again sees the beautiful tree, and again, decides to draw it — only this time, the creation is his alone, and he labels it "My Drawing," before hanging it on his bedroom wall. Like many of Falwell's books it would be easy to mistake the narrative in this title for nothing very special: it's a simple story with a simple outcome, but in some ways its simplicity belies its depth. Beneath the straightforward activity of creating a collective piece of art and a solitary one, there are messages about ownership, collaboration, cooperation, even self-knowledge and reflection. As always, Falwell does an excellent job of inclusiveness and diversity in her work, so there's a subtle-but-deeply-important added sense that everyone has something to contribute. The strength here lies in showing the possibilities of what we can accomplish both together and alone.
---
Doctor De Soto by William Steig (1982)
I always hesitate to review books that I believe are very well known but when it's a really excellent one I have this nagging thought: what if you don't know about it, and you'll miss it? (Is this some sort of book FOMO on behalf of humankind? I don't know, but I'm compelled to share.) Hence Doctor De Soto. DeSoto is a mouse dentist who is selective about his large animal clients, with good reason — he doesn't want to be eaten. One day, a fox arrives in great pain from a toothache, and DeSoto and his wife decide, somewhat against their better judgement, to treat him. During the first exam, the fox, of course, spends the entire time thinking about eating them, and after it is decided he will return the next day for an extraction of the rotten tooth, the DeSotos lay awake formulating a plan to stay alive. Their clever solution is too good to give away here (and if you know this book but have forgotten it, it's worth revisiting) — suffice it to say that the outcome of the DeSotos' dilemma is both delightful and fascinating for little ones (my newly-4yo has asked for this book so many times in the last year that I really have hidden it on more than one occasion just to get a bit of a break). Stieg's storytelling is (always) top-notch and his illustrations are the same: classics are classics for a reason, and this one is still gold.
---
The Rainbabies by Laura Melmed, illustrated by Jim LaMarche (1992)
If there's a sweeter tale than The Rainbabies, I have yet to find it — and a story more masterfully told than Melmed's, ditto. Here an older couple, unable to have children, find a dozen miniature babies in the grass after a "moonshower" and their wish to be parents — of a sort — comes true. They lovingly tend to the babies, rocking and feeding them, keeping them safe from harm (they fall out of a boat and the old man practically tips into the sea rescuing them, they're hunted by a weasel and the old woman fights it off), until one night a stranger appears at their door — Mother Moonshower, in disguise. She tells the couple, "You have proven yourselves the worthiest of parents," praising them for taking such good care of her rainbabies, and before leaving with rainbabies in tow, she gifts the couple with a real, regular baby of their own. Melmed's writing is masterful, matched only by LaMarche's illustrations, which are absolutely perfect — so warm they seem to glow — and depict not only the adorable little rainbabies, but also show the emotions of their guardians with such tenderness it's as if you can see straight into their hearts. This is a fairy tale in the truest sense of that tradition — the characters face several trials, prove themselves worthy through their goodness of character, and their virtue is rewarded. This title deserves a spot on any child's shelf and should be pulled out on any ordinary, magic rainy evening.
---
What's the Point of Math? by Ben Ffrancon Davies and Junaid Mubeen, illustrated by Clarise Hassan (2020)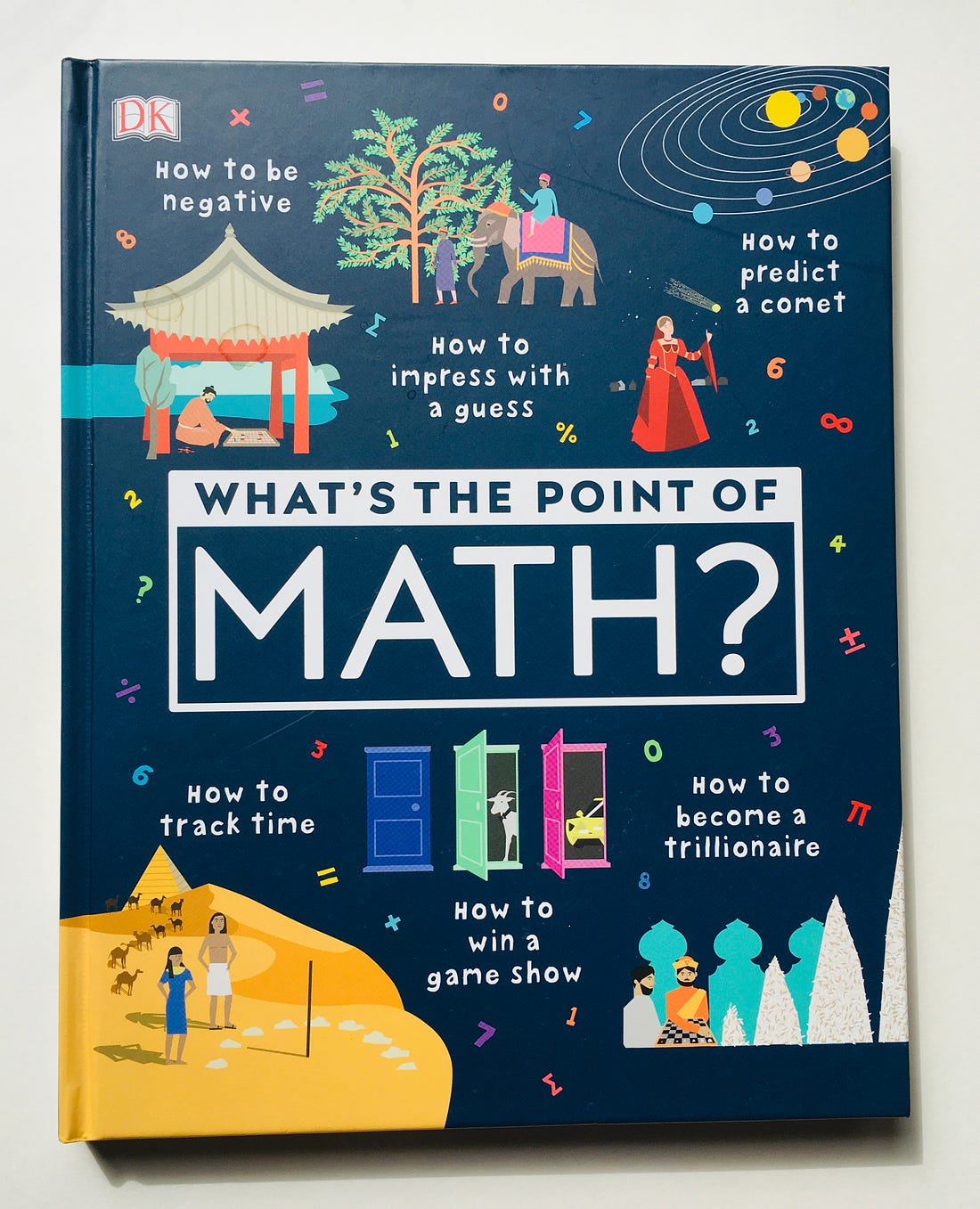 Though this title is a bit different than the ones I usually cover — it's nonfiction, obviously, and aimed at a higher reading level/older age group (upper elementary and beyond — my grandmother bought it for me for my birthday, since, thanks to COVID homeschooling, I seem to be going through some strange sort of personal math recovery/rehabilitation from years of math trauma) — it's so good I wanted to share. Just last night I was sitting with this book on my lap after my kids were in bed, constantly interrupting my husband's TV watching to say, "Listen to this! Did you know this?" until we were both counting on our fingers, toes, joints, and upper body parts — the result of reading one page alone, on the topic of the human body as first calculator, and the origin of base-10, base-20, base-60, and base-27 systems (the Latin language; Mayan and Aztec, and Babylonian civilizations; and Papua New Guinea, respectively). Topics are broad — what's the point of numbers and counting, shapes and measuring, patterns and sequences, data and statistics, probability and logic? — but that accurately reflects the staggering breadth and depths of maths, and though this is technically a children's book, the ideas are both basic and very complex. As a predominantly visual learner the most compelling thing here for me is that everything, literally every concept, is explained visually — I not only benefit from this, I wouldn't be able to understand a damn thing in this book without it — which makes it unique (though not standalone) in this category. If this had been from the library I would have returned it and bought it immediately — with many more years of maths learning and education in front of (all of) us, this will be invaluable. And if you're, you know, looking for ways to suck up free time you really don't have in the evenings or interrupt your beloveds as they (try to) go about their own leisure activities, this is the perfect thing.
---
Sing a Song of Popcorn: Every Child's Book of Poems, selected by Beatrice Schenk de Regniers, et al, illustrated by nine Caldecott award winners
I mention this title not simply because of its quality (it's excellent in both prose and pictures) but because I always forget about it until I pick it up again and think to myself, "This is so good! Why don't we read this more? It's so good." And it is. I was reminded last week, when I came upon the brilliant idea of making our poetry teatimes (a semi-regular habit of the past several years which has completely fallen apart in 2020 for all the reasons everything else has fallen apart, and which we miss) a consistent part of our home rhythm by doing it at night 🤔💡🎉 Enter Bedtime Tea and Poetry™️ (I expect my Mother of the Year award to arrive any day now!) and Sing a Song of Popcorn, which (again, I'd forgotten) has an entire section called "Spooky Poems" for Halloween, followed by its best section, in my opinion, "Story Poems," which are longer and exactly what they sound like — stories in the form of poems. I like this collection because it has a wide variety of authors, illustrators, topics, and selection lengths, without skimping in any of those categories (and because it has the best rendition of Edward Lear's "The Jumblies" that I've found — we freaking love that poem). This is a great addition to any poetry shelf. Here's proof I'm not the only one that thinks so:
👆That's graham crackers and apple cinnamon tea, people. Poetry teatime doesn't have to be fancy! (Though it can be!)
---
If, for whatever reason, you'd like to browse the archives of this newsletter, you can find it here.
And if you know someone with children in their life to whom they read (or want to), I'd so appreciate it if you shared this newsletter with them. Here's the link to sign up.
Thanks for reading today (and always). Have a good one.