Discover more from Can we read?
Your weekly guide to children's books, raising readers, and how to build a culture of reading in your home.
Over 3,000 subscribers
Can we read? No.12
Look at my newsletter! Thank you, fine newsletter, for being fun (when I really need some fun). What a wonder.
Good morning, good people. It's nice to be here with you today.
Apropos of nothing (except my own excitement and desire to share great resources with you): the Cooperative Children's Book Center (part of the School of Education at UW Madison) has redesigned their website, massively increasing its usability. I can guarantee you that whatever the CCBC offers is always worth your time, but I want to draw your attention to the lists and other items under the header "Literature Resources" — they're freaking outstanding. The CCBC has always produced exceptional lists — they even compile them into print books each year, titled CCBC Choices (if you're a patron of the South Central Library System here in my neck of the Wisconsin woods, many years' worth are all available in LinkCat) — but they've vastly improved the ease of finding and accessing this information. Just wanted to let you know.
And now, on to it.
---
All of Me: A Book of Thanks

by Molly Bang (2009)
Molly Bang had me at When Sophie Gets Really, Really Angry. Then Ten, Nine, Eight. Then In My Heart. Then All of Me: A Book of Thanks. What I appreciate about her books — besides her little bit wacky, interesting artwork that varies across her oeuvre and really shows her range of talent — is that she's incredibly honest and forthright about feelings, about what's really going on inside. As "a book of thanks" the primary focus in this title is the feeling of gratitude, and Bang does it absolutely flawlessly. Beginning with "Look at my fine feet! Thank you, feet, for holding me up when I stand, and when I walk, and when I jump!" this little person covers their whole body with gratitude (something deeply important to me as a mother of daughters trying like hell to build self-worth that's strong enough to withstand our toxic culture). This in and of itself would make a noteworthy book, but then the little one extends the gratitude outward: "Today I did so many things. Today I felt so many feelings…. and right now I also know that I am part of this whole world — this universe! All this is my home. I am ALIVE. And this whole universe is inside all of me. What a wonder." This book is a lovely, meditative, even spiritual social-emotional book that I recommend for any child…as well as their adults.
---
Me First
by Helen Lester, illustrated by Lynn Munsinger (1992)
Pinkerton is a "pink, plump, and pushy" pig who will do anything to be first. Haven't we all met someone like this? That guy who's a bit of a dick and thinks he's entitled to everything? (Since I've met plenty of them, I'm just going to go ahead and assume yes.) Pinkerton gets away with all this behavior until one day, on a day trip to the beach with his Pig Scout troop, he messes up. In his rush to always be first, he literally turns snout over hoof to answer a mysterious call coming from somewhere unseen: "Who would care for a sandwich?" It turns out the person making the entreaty is actually a Sand Witch (this is always the point where I lose it laughing and wish I could be half as clever) and Pinkerton, unknowingly, has volunteered to care for her. She makes sure he does — he powders her nose and combs her toes, he feeds her her supper from a bucket (it's spaghetti). He does a whole list of chores before tucking her into bed — but not before she makes him tell her a bedtime story about a "wise and beautiful Sand Witch" who shows a pushy pig that first isn't always best. Sigh. If only we could deal with people in such a hilarious, vibrantly illustrated, gentle way. The lesson here is handled with the perfect touch of levity. I say don't miss it.
---
Do Not Open
by Brinton Turkle (1981)
Raise your hand if you have a child that likes to be scared ✋This is my three-year-old, and scaring herself is, I believe, the main reason she likes this book. Miss Moody lives "at land's end" with her cat, Captain Kidd. One of their favorite pastimes is scouring the beach for treasure after a storm — and this is exactly what they are doing when one day, they find an old, corked purple bottle with a message scratched in the glass: DO NOT OPEN. Of course they open it — of course they do — and a fearsome creature emerges, one whom gets into people dreams just for fun, and boasts that "children wake up screaming." The monster grows and grows, trying to frighten Moody with greater and greater displays of power and aggression but she is an unflappable badass who has long taken care of herself, and she finally says, in the salient point of the whole book: "Getting bigger and uglier doesn't scare me." She uses a clever trick to deal with him — Captain Kidd helps out, in the way of cats (eating mice with glee) — and goes back to her steady life of serenity-no-matter-what's-happening-around-her. This is a strange, somewhat spooky story to be sure, with strong themes of self-possession, self-reliance, and bravery (and perhaps a not-even-subtle message about how to deal with bullies) that is both instructive and needs no further conversation — it's complete just as it is.
---
I Am Human: A Book of Empathy
by Susan Verde, illustrated by Peter H. Reynolds (2018)
We have a small-ish collection of books (none of the collections of books in my house are small) that I mentally categorize as "re: social-emotional learning." It started with necessary age-appropriate titles about hands that aren't for hitting, teeth that aren't for biting, mouths that aren't for taunting your little sister with a sound that annoys her to the point where she loses it and hits and bites you, and eventually progressed to higher-order thinking (well, most of the time — clearly we're still working through some of the finer details). This is another book my three-year-old loves and though it puzzled me for awhile, I think I know why: there's no story, really, the reader simply follows a boy through his life, but Verde perfectly describes what this character is feeling and thinking and how he processes it. It's not just that he's scared but rather, "I can be fearful of things I don't understand and timid to try something new. I have a heavy heart when I feel sadness. I am Human. But then I remind myself that because I AM human, I can make choices." For a very small person still trying to figure out not just her inner life (how angry is my big sister actually making me right now? do I bite her or hit her?) but the world around her and how it all fits and works together, it's a road map of sorts — an interesting, line-drawn instruction manual, if you will (SIGN ME UP). I wish the idea of a growth mindset had been around when I was a kid (ages 2-25). I wish there had been social emotional books. I wish someone had taught me empathy for myself at a much, much earlier age than I actually learned it. I can't change any of that. But I'm grateful I can offer these things now to the children in my life, and yours.
---
Baby
by Patricia MacLachlan (1993)
I read Baby in 1.5 sittings. Not because it's a book for 8-12 year olds and thus an easy read for me, but because it's tender and lovely and Maclachlan is so very good. The story also took hold of me: Larkin and her family live on a secluded island, protected from tourists most of the year, dependent on each other and friends to make it through life. Despite being not-at-all recovered from a devastating loss of their own, when a stranger leaves baby Sophie on their doorstep, they decide to take her in, knowing that one day her mother will return for her. Maclachlan is the author of one of my top three favorite books of all time* — The Fact and Fictions of Minna Pratt, which is also the book I have re-read the most, so many times I've lost count — so I have major respect for her abilities. She is one talented writer. Still, talented writers don't write masterpiece after masterpiece, they have lukewarm titles like everyone else, but Baby isn't one of those. This is a vulnerable story of loss and love, of letting go and holding on — which is a story some of us might need right now (or always).
*all children's books, which may or may not be surprising
---
Jim Trelease's Read-Aloud Handbook: Eighth Edition
by Cyndi Georgis (2019)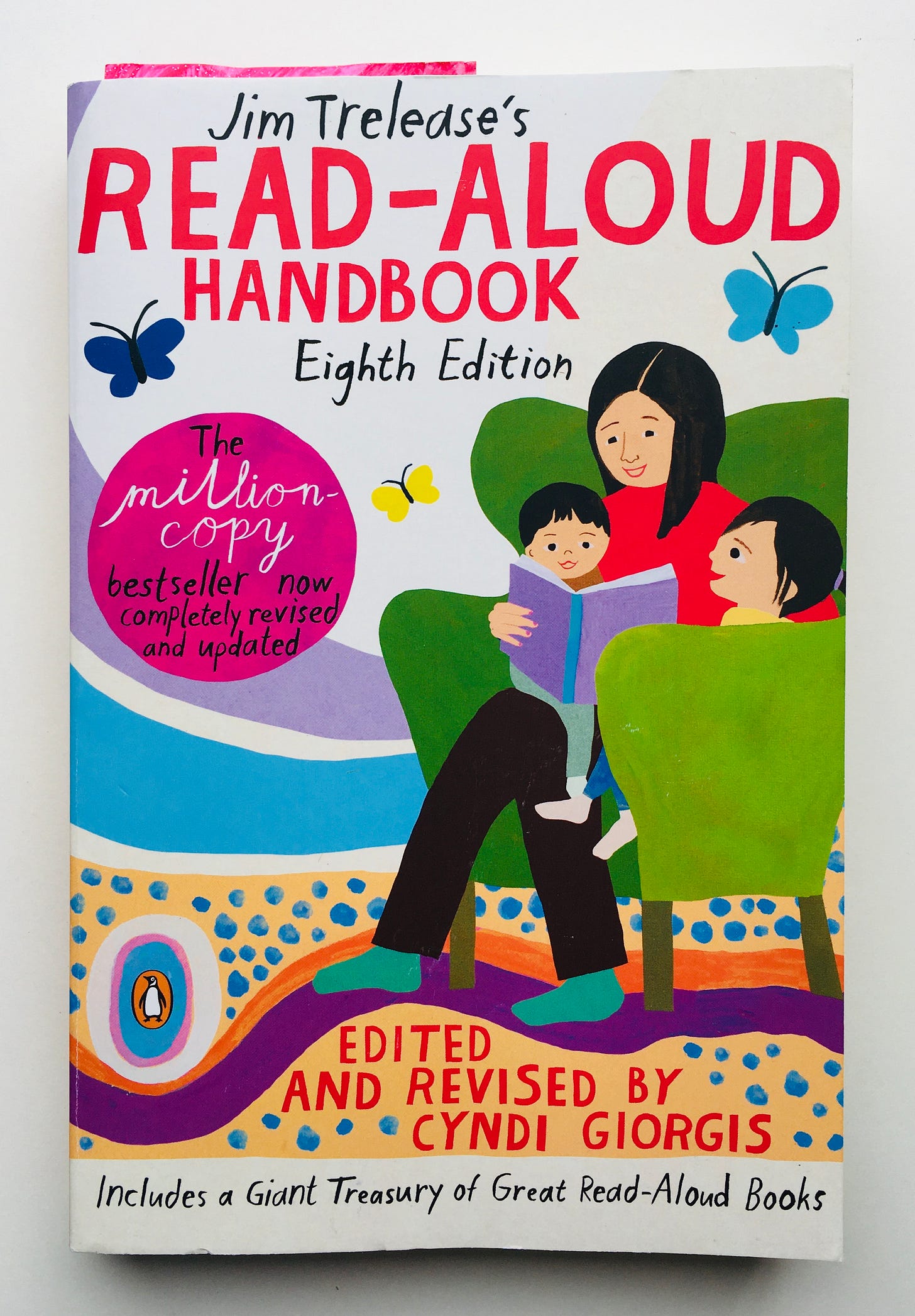 I already own two previous editions of this book, so when it came out last year I was skeptical about buying the eighth: what could possibly be all that different? A lot, it turns out. Kudos to Giorgis, who took on the monumentally daunting task of revising and updating a book already nearly perfect and totally beloved, but she did an outstanding job. This is one of those resource books for you that I mentioned I am trying to include here from time to time. Even if you have the seventh edition, from 2016, a truly remarkable amount is different here. The booklists — the heart of the book and worth every single penny — have been drastically overhauled, updated with a special eye for fresh titles as well as inclusivity and diversity. (Can I say one more time that no one needs to be told about Goodnight Moon?) What astonishes me every time I read a book about children's books and reading aloud is how I continue to learn. I know a lot about these topics. A lot. And yet there is always more. (How wonderful, really.) This book offers more, in every sense. I highly recommend it.
---
Thanks for continuing to read this newsletter. I appreciate every one of you who has taken the time to give me feedback — and especially those of you who have shared this with others. (Thank you!)
If you have someone in your life who would think would enjoy it, please pass it on!