Discover more from Can we read?
Your weekly guide to children's books, raising readers, and how to build a culture of reading in your home.
Over 3,000 subscribers
Can we read? No. 7
Good morning. I'm looking out my window at the burgeoning blue sky and green trees and breathing in air that is not conditioned for the first time in weeks. It's the depths of summer here in Wisconsin and though in normal years this time drives me crazy (my mental health does not flourish in heat and I travel more than ever) this one is different in so many ways, none of which I have to tell you about. I'm grateful for these small moments where I see even with all that's going on in the world, in my life and with me, this is still a beautiful place to be.
Wherever you are, I hope you're looking out on a (literal or metaphorical) slice of something good today. Thanks for being here.
---
Tasty Baby Belly Buttons
by Judy Sierra, illustrated by Meilo So (1999)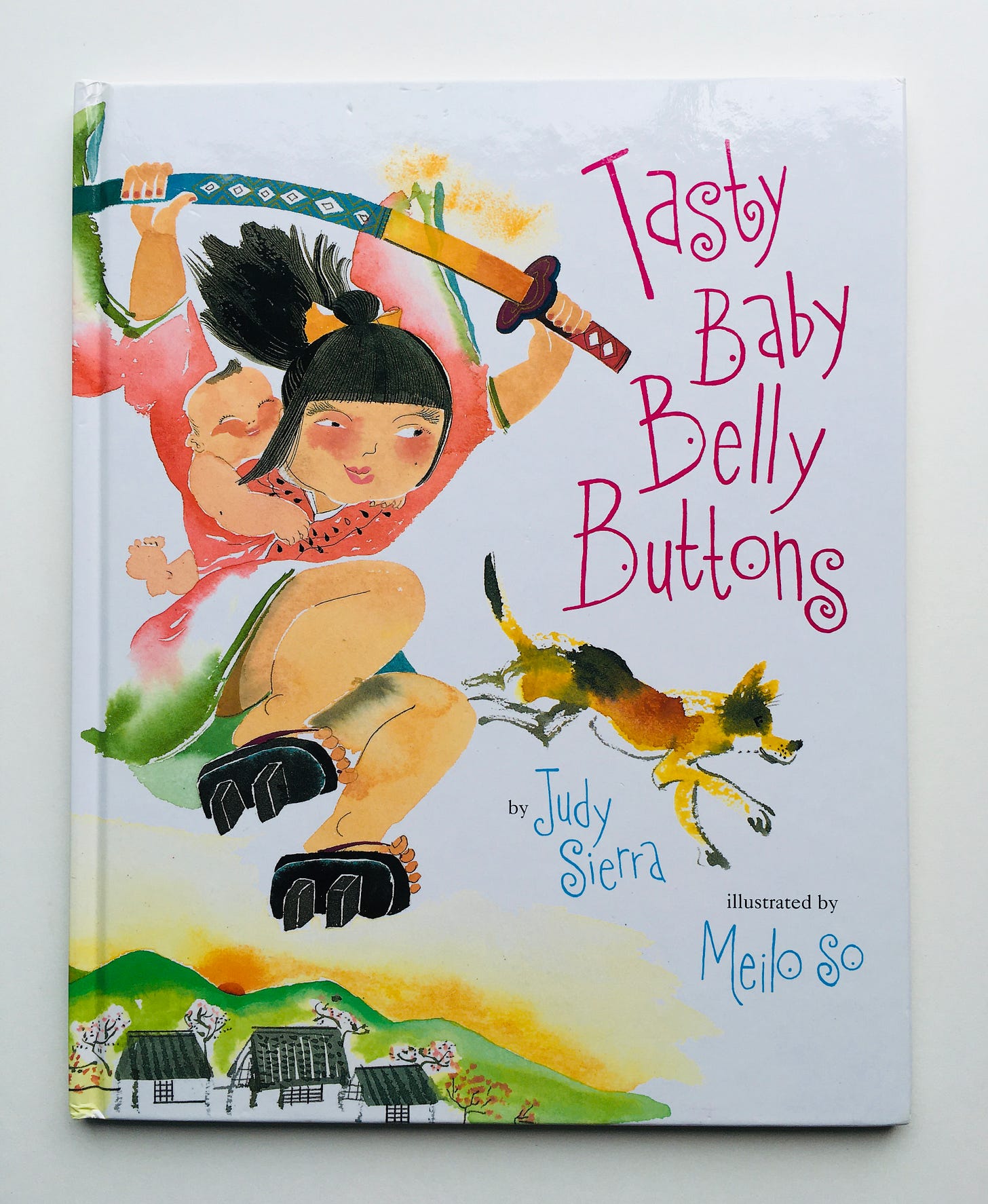 I keep making and revising our "desert island" list of children's books in my head, but this one never leaves it: it's just excellent. Based on an old Japanese folktale, this is the gripping story of a town besieged by Japanese oni (a kind of ogre/trolls in Japanese folklore; oni is the plural), who show up to steal all the babies because their favorite food is "tasty baby belly buttons." The townspeople are powerless in the face of this aggression, but one girl — a special girl, born from a melon her mother found floating down a river — is simply unwilling to accept this fate. She takes off on a journey, meeting a few animal helpers along the way, and with great wit and unmatched bravery, they fight the oni, free the babies, and bring riches back to the village. Not only is this heroine a breath of fresh air in a book world still (STILL! HOW?!) saturated with exhaustingly gendered stories, this is a well-told, funny, riveting tale with fast-moving and evocative illustrations that doesn't disappoint in any way. I dare you to find a child — or an adult — who won't laugh at the idea of tasty baby belly buttons.
---
Dandelion
by Don Freeman (1964)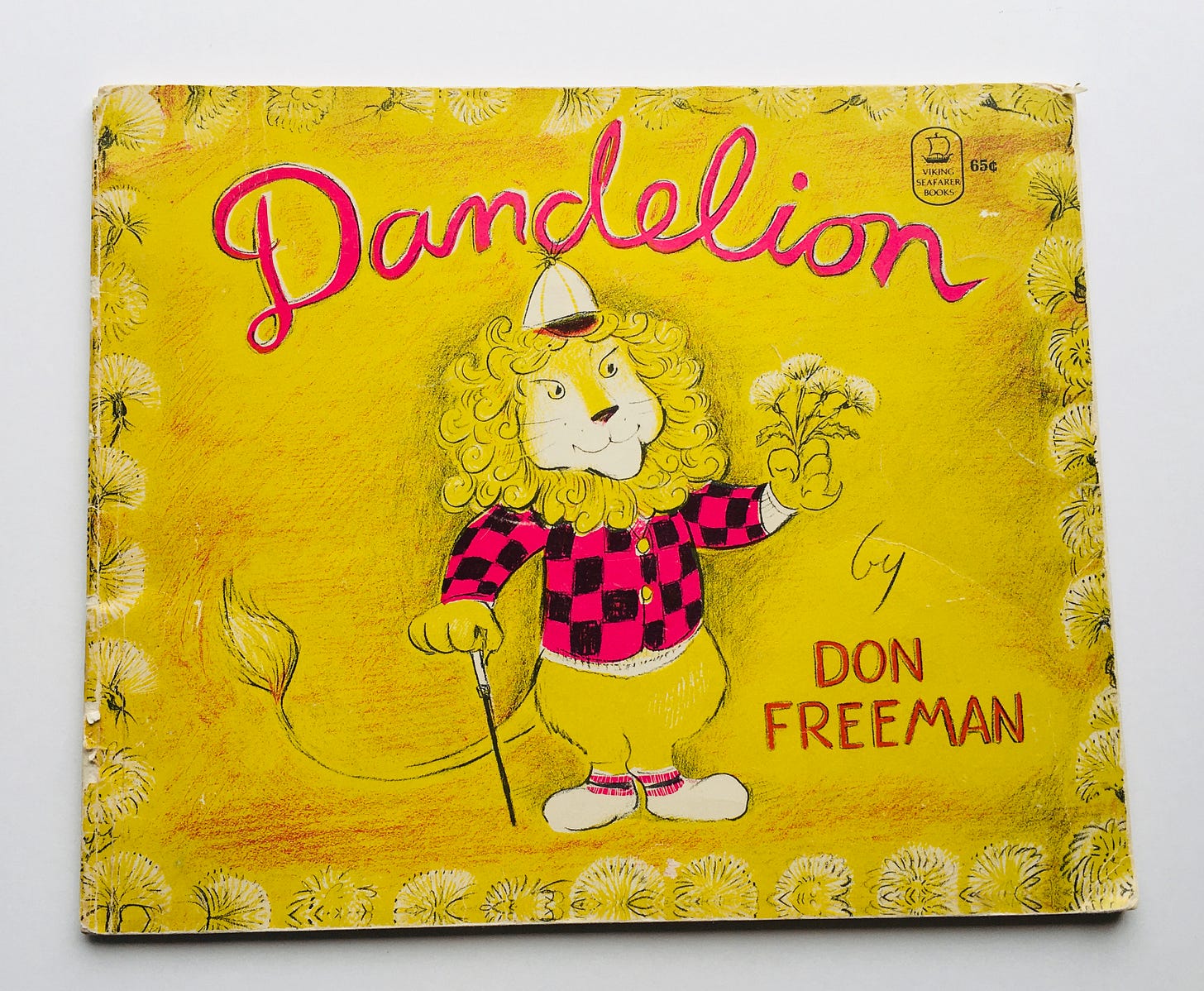 Many authors stand the test of time, and Freeman is definitely one of them (lovers of Corduroy should not overlook the rest of his large oeuvre; A Rainbow of My Own is particularly lovely). Maybe it's the relatable nature of Dandelion's situation and feelings about himself — he gets an invitation to a friend's tea-and-taffy party, and despite her clear message to "come as you are," Dandelion feels the need to overhaul himself, immediately going out and getting an unnecessary haircut ("When Lou Kangaroo had finished Dandelion looked a bit foolish, his mane was frizzy and fuzzy and completely unrulish") and manicure, and buying a new suit. He does such a good job pretending to be someone he's not that when he finally arrives at the party, his friends don't even recognize him and turn him away, into a rainstorm that serves to reveal the real Dandelion, just as he is. When his friends see the real him at the door once again, they rejoice and celebrate together. Freeman's illustrations are solid, in his characteristic style, but where he really excels here is in the messaging: it reminds me so much of the Daniel Tiger episode where they sing, "I like you, I like you, just the way you are," which is, of course, based on the original version of the concept and song by Mr. Rodgers, "It's You I Like" (click through if you want to cry — happens to me every time I see that loving face). This is a book about the importance of being confident in who you are and the courage to show up in the world as exactly that — no improvement necessary.
---
I Like Myself
by Karen Beaumont, illustrated by David Catrow (2004)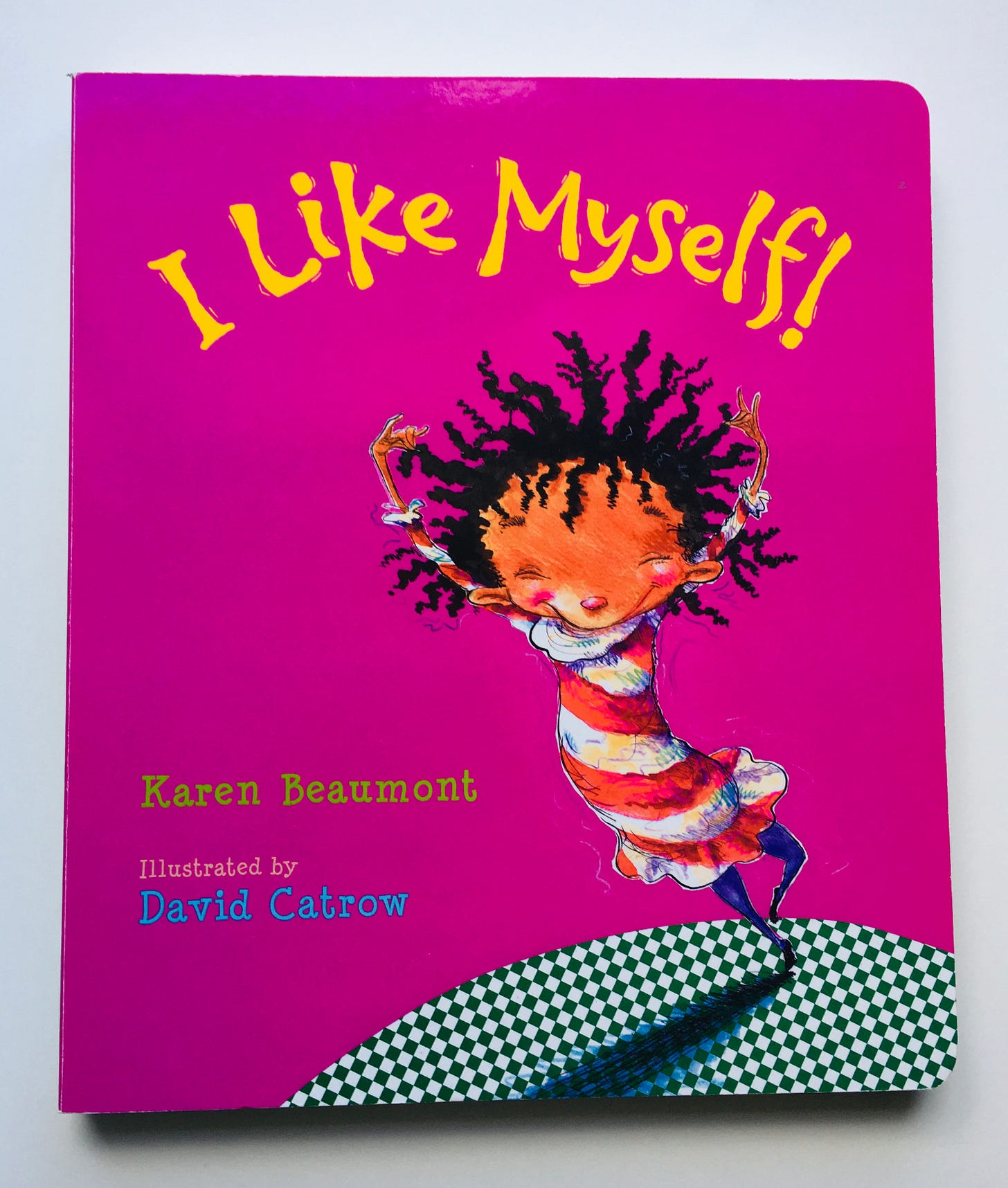 I love when books have soulmates — that is, a title that pairs like cookies and milk with another. I Like Myself! is Dandelion's match in this way (it's a May-December romance, sure, but it works). The book begins with the lines, "I like myself! I'm glad I'm me. There's no one else I'd rather be," and goes on to catalog all the things this little girl likes about her body, her ways of being, everything about herself. Catrow's fantastical, wild illustrations impart a real sense of the inner joy to be found here — it's hard not to feel the exuberance. (We also need more books where Black girls are celebrating themselves. Full stop.) When a bully comes into the pages (in a non-aggressive way, but one that makes it clear this is someone who is calling into question the girl's worth), she handles it with the same self-celebration: "No matter if they stop and stare, no person ever anywhere can make me feel that what they see is all there really is to me." YES, GIRL 🙌 Is there a greater gift than liking yourself? It takes some people a lifetime to get there. This book shows us the way.
---
Old Mother Hubbard
by Alice and Martin Provensen (1977)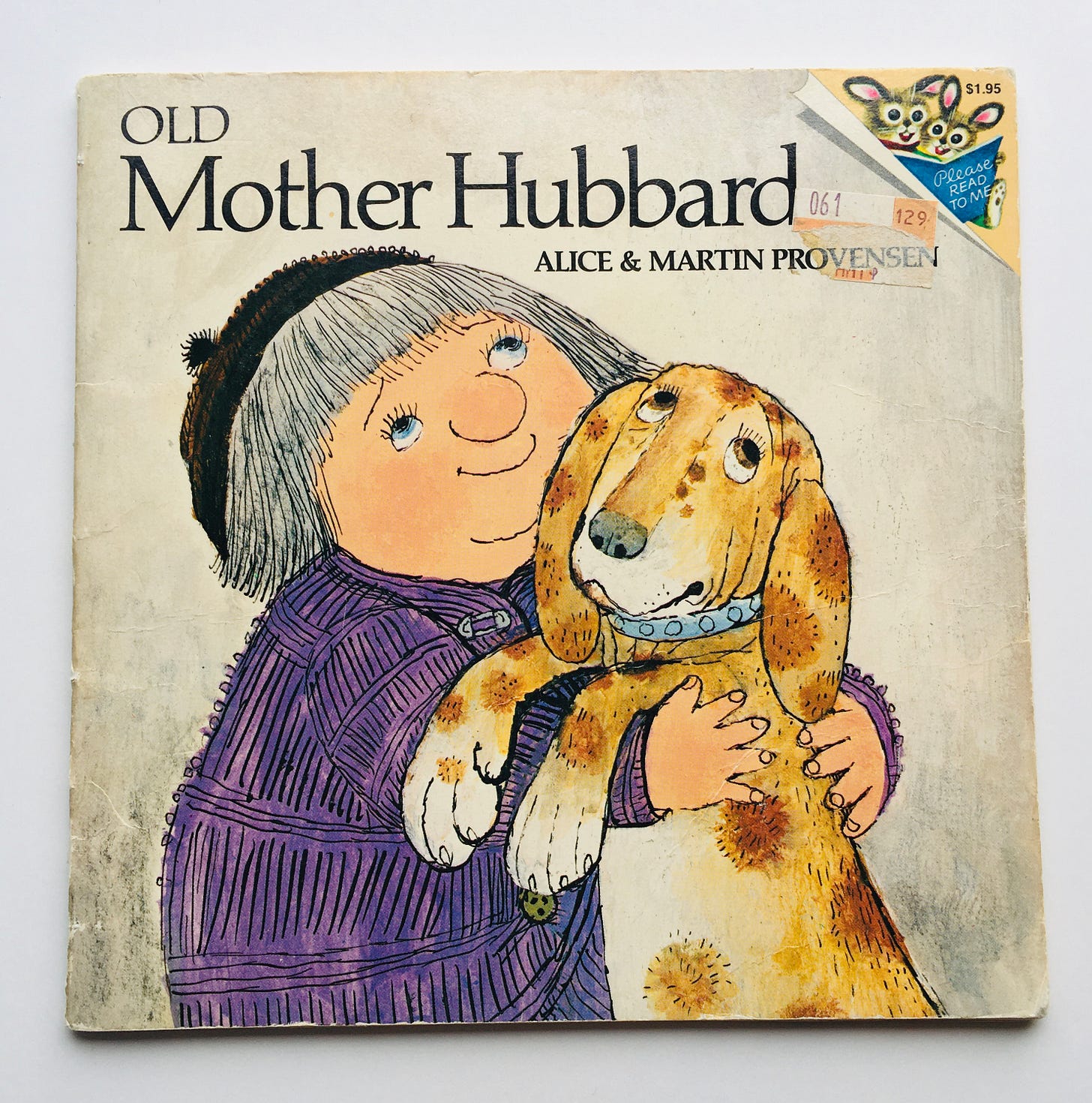 I know I say this about a lot of authors, but if you ever see anything by Alice and Martin Provensen, just buy it — many of their out-of-print titles are quite rare but more importantly, many of their titles are quite GOOD, and that's the whole point. Old Mother Hubbard is one of those out-of-print titles but it can be found for less than $5 in various places online (if you're wondering, my go-to used source online is Thriftbooks). Aside from the extreme importance of nursery rhymes for the development of both language and cultural literacy (this is true whatever "culture" we're talking about, for what it's worth), there are a handful of truly delightful but almost obsolete words here: when is the last time, if ever, your child heard the words "joiner" (even I had to infer from the Provensens' pitch-perfect illustrations that's an undertaker), "hosier," or "fishmonger," much less "tripe?" That alone makes this a unique and valuable read, but it's also just purely pleasurable: just yesterday I overheard my three-year-old chanting, while deep in play, "The dame made a curtsey. The dog made a bow. The dame said, Your servant. The dog said, BOW-WOW." (So basically I'm winning at life.)
---
Lady Lollipop
by Dick King-Smith (2000)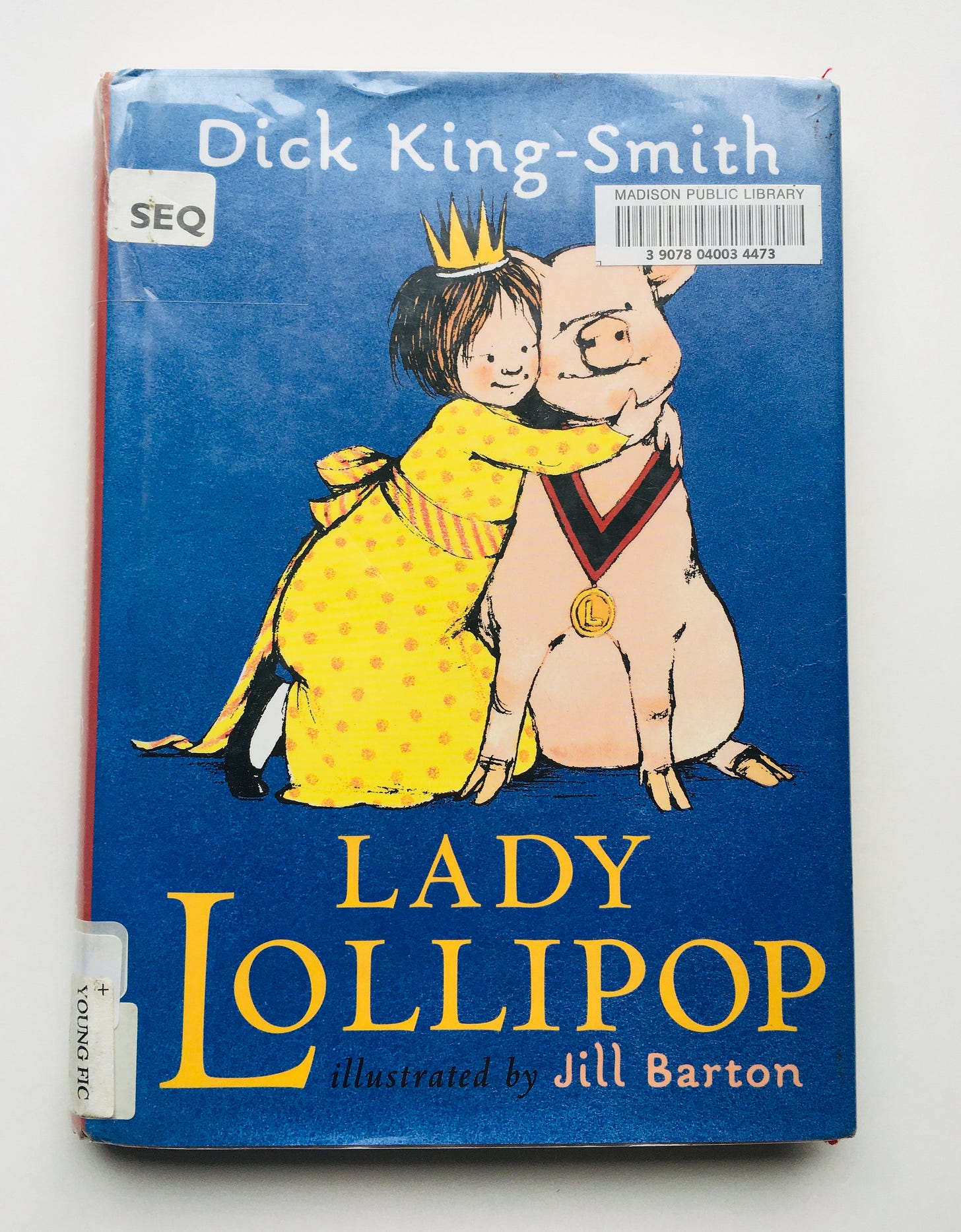 Dick King-Smith is probably best known (at least in the U.S.) for Babe: The Gallant Pig, which is probably best known because of the movie that came out a few years later in the mid-90s, Babe. (I still think that movie is cute and funny.) Turns out, though, that King-Smith was an extraordinarily prolific author (I mean like, 2-8 books PER YEAR from 1978-2007), and an overwhelming theme of his work is animals, particularly pigs. This was the first book my children and I have read of his — the first I've ever read of his — so my expectations were near zero, though they shouldn't have been: King-Smith is very clearly an expert at what he did (which he very well should be, at the rate at which he turned out work). Lady Lollipop is a straightforward yet highly enjoyable tale about a spoiled princess who wants to keep a pet pig; her royal parents, whose personalities and weaknesses (or not) when it comes to their daughter are hilarious and add much to the story; and the humble stable boy who is hired to not only palace-train the pig but also train the princess. This is on a higher level than beginning read-aloud chapter books — meaning, probably too hard for preschoolers to pay attention to unless they are used to pages without pictures, though Jill Barton's wonderful illustrations appear on almost every other page — but perfect for an early elementary read-aloud or independent read for perhaps 3-5 grade, depending on the strength of your reader. Regardless, this title is an entertaining romp and I think, probably an excellent introduction to the large world of King-Smith.
---
In all seriousness, thanks for letting me take up a bit of space in your inbox. I welcome your feedback at any time 📩, especially if there is something in particular you'd like from me, or something you'd like to see in this newsletter. (I have given much advice over the past few years about how to fit more reading time into your home life and routine, for example. Ditto for recommending titles pertaining to particular topics, ideas for birthday and holiday gifts, etc., etc., etc. I can literally talk about these things for hours. USE ME!)
And, if you like this newsletter, please consider telling a friend and sending them the link to subscribe. Sharing with each other is still the best part of the internet, and I'd be grateful for your support in helping me with my mission to not only bring more books into the lives of children and their adults (we're their pets, really) but help families create a culture of reading in their homes. (Thank you, thank you, thank you 🙏)