Discover more from Can we read?
Your weekly guide to children's books, raising readers, and how to build a culture of reading in your home.
Over 3,000 subscribers
Can we read? No. 3
(Apparently I relate deeply to cranky characters)
Hello hello. No preliminaries this morning, just straight down to business.
---
Mrs. Biddlebox
by Linda Smith, illustrated by Marla Frazee (2002)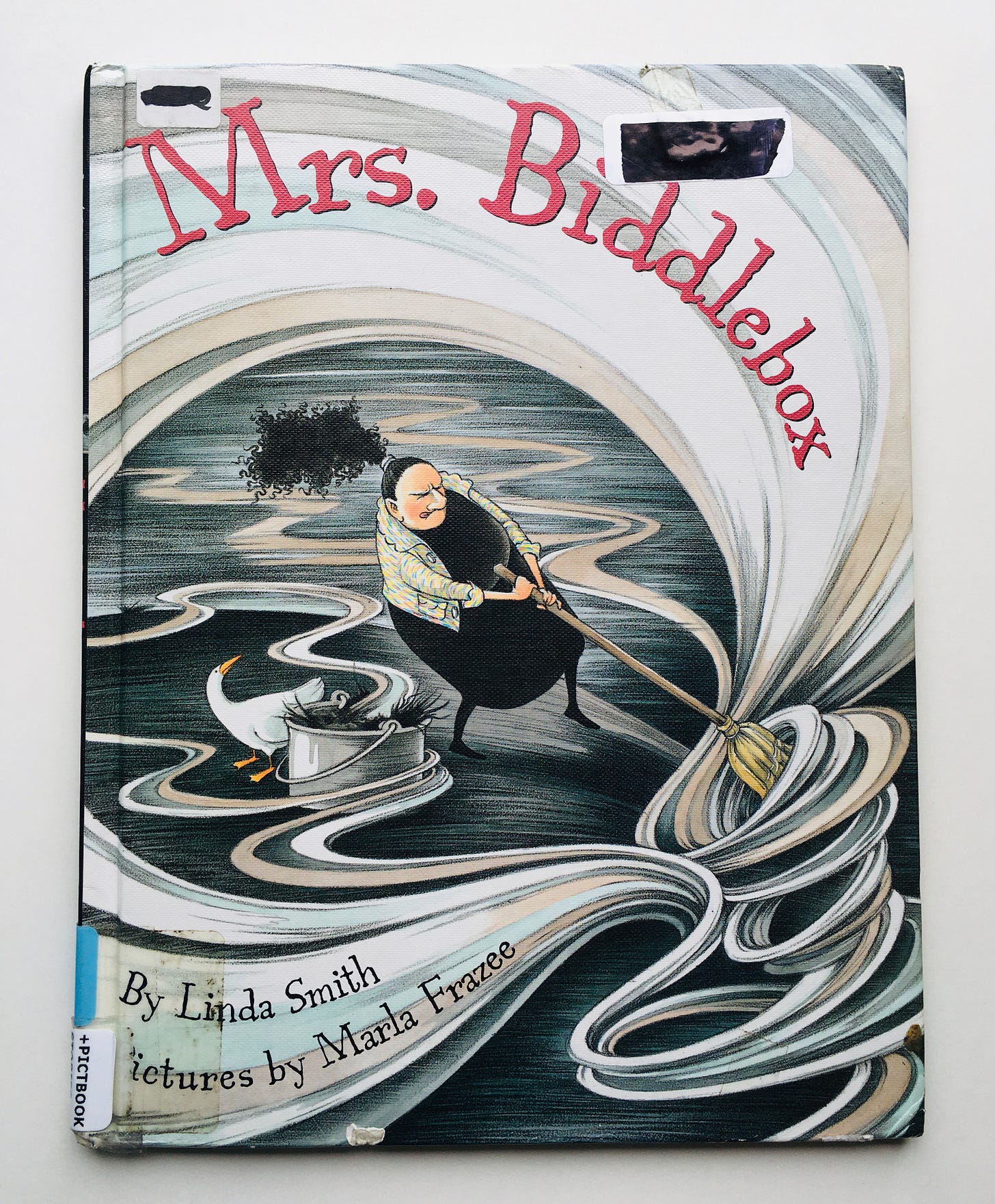 It's possible that I love Mrs. Biddlebox so much because I often feel like her: "On a knotty little hill in a dreary little funk, Mrs. Biddlebox rolled over on the wrong side of her bunk." (Uh, yes 👋) But it's just as likely that Smith's words and Frazee's illustrations meld perfectly together here to create a most lovable character in a highly relatable situation. What makes this title standout, though, isn't Mrs. Biddlebox's bad mood, but how she deals with it: she spends just a few pages wallowing before she decides, "I will cook this rotten morning! I will turn it into cake! I will fire up my oven! I will set the day to bake!" And she gets after it, taking the day into her own grumpy, determined hands until she has made it over and shown the reader that there are things we can control, and sometimes, self-renewal is a cup of tea and a pretty plate and a merry slice of cake.
---
Rise and Shine, Mariko-Chan!
by Chiyoko Tomioka, illustrated by Yoshiharu Tsuchida (1986)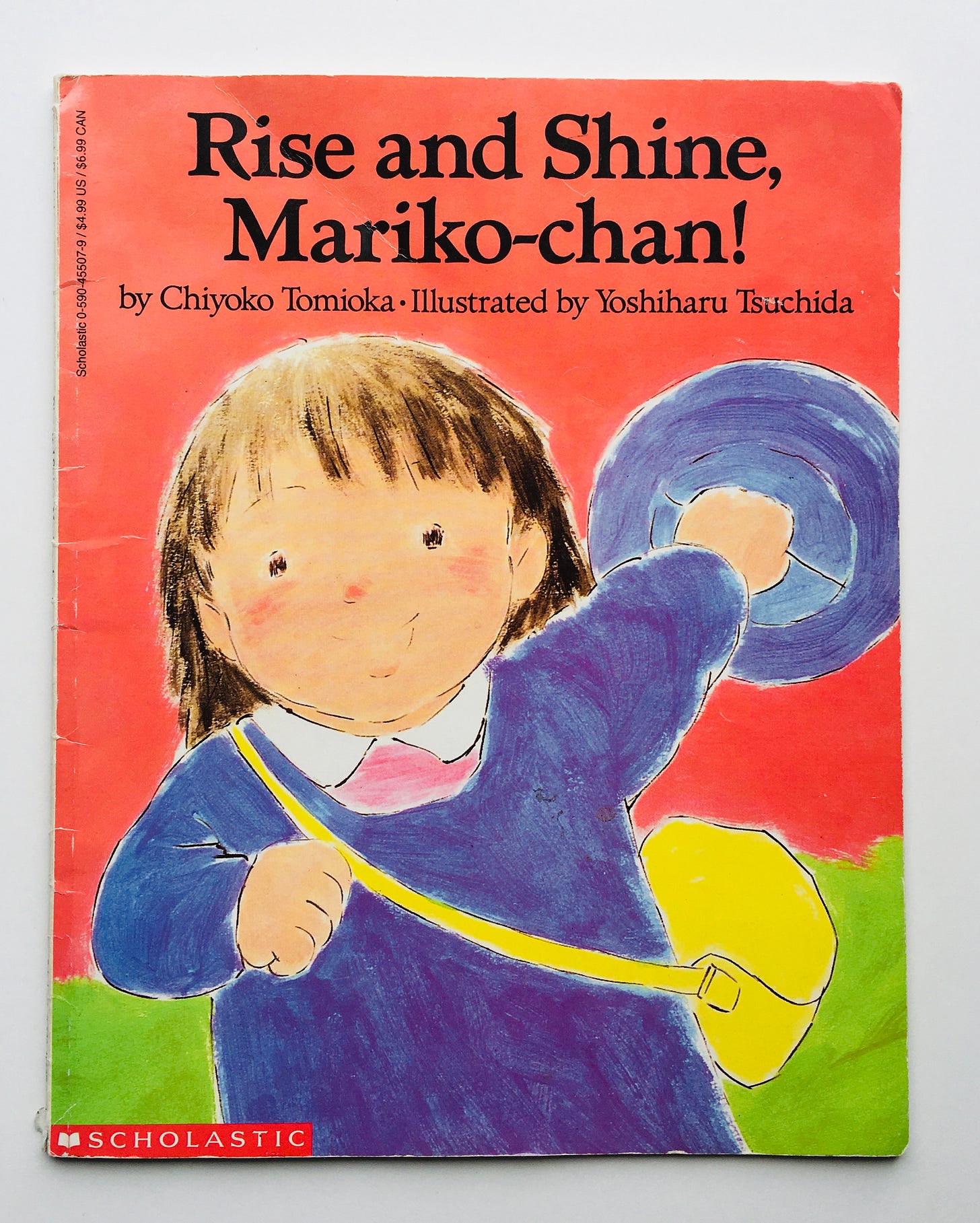 It wasn't until I had children that I had any idea how appealing it is to them to read about the most mundane things in life: maybe when you're learning how the world works and the ways in which your own life fits together, it's comforting (not to mention helpful) to see how other people handle it all. This is both the appeal and charm of Mariko-Chan, whom the reader accompanies on an ordinary morning as she dresses, breakfasts with her family, says goodbye to her two older sisters as they leave for school, sees her parents off as they commute together, and then waits impatiently with her grandmother for her own school bus to come. It's very much a day-in-the-life story full of easy (though not perfect) family interactions and affection. Tsuchida's illustrations are warm and gratifying and that's exactly right: this is a warm and gratifying book.
---
Mommies Say Shhh!
by Patricia Polacco (2005)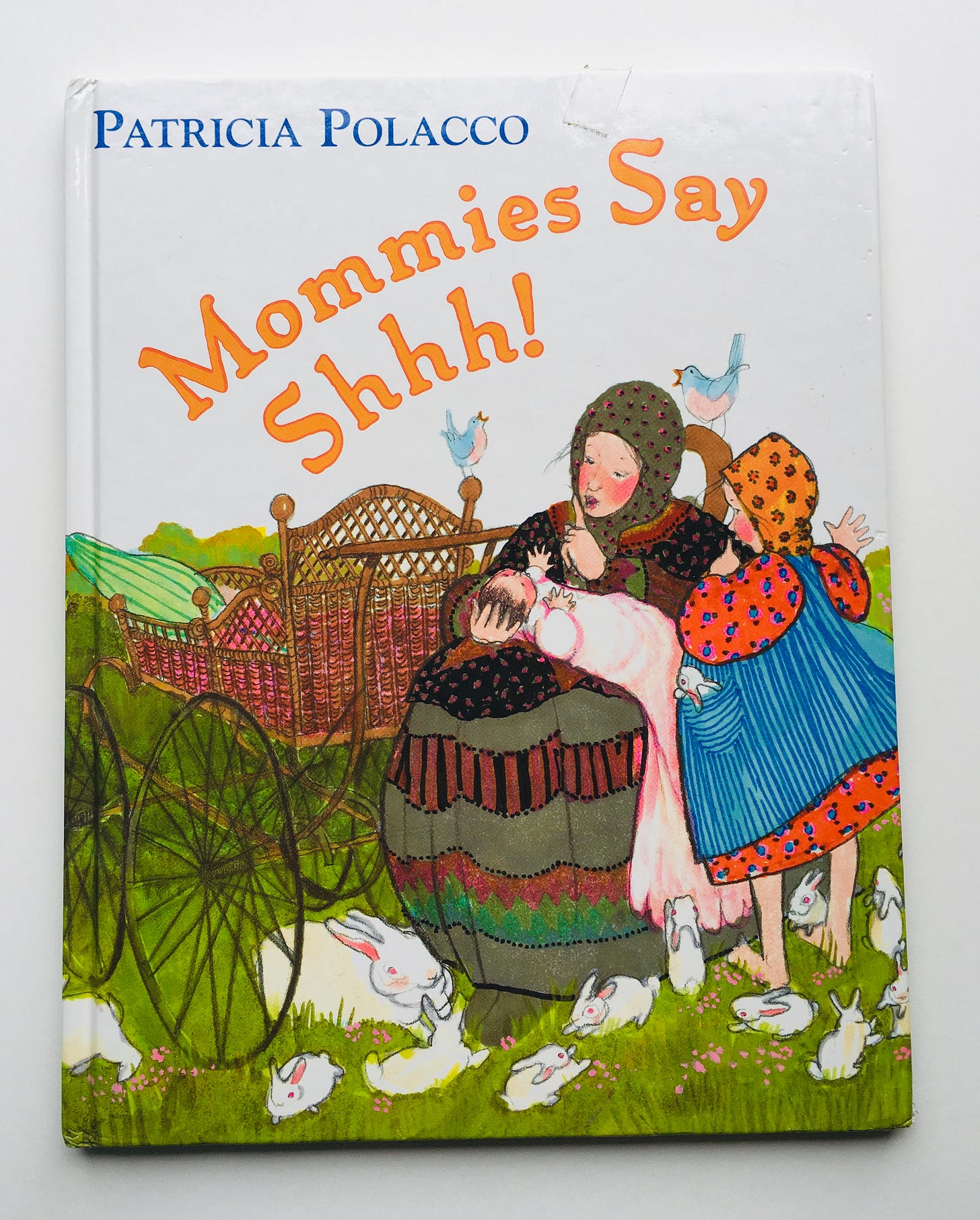 When I'm elbowing my way through library sales and see a Patricia Polacco book, I grab it and put it in my bag without even looking at it. Doesn't matter what it is, she's just reliable gold, and this title is no exception. Sweet and simple but richly illustrated (as all Polacco's books are), this is a playful romp around the barnyard, where each animal has its noisy say, until finally, with a new baby on her lap, Mommy says "shhh." This was my youngest's absolute favorite at about 18 months old — it's a worthy library addition or gift for that age group.
---
The Feelings Book
by Todd Parr (2000)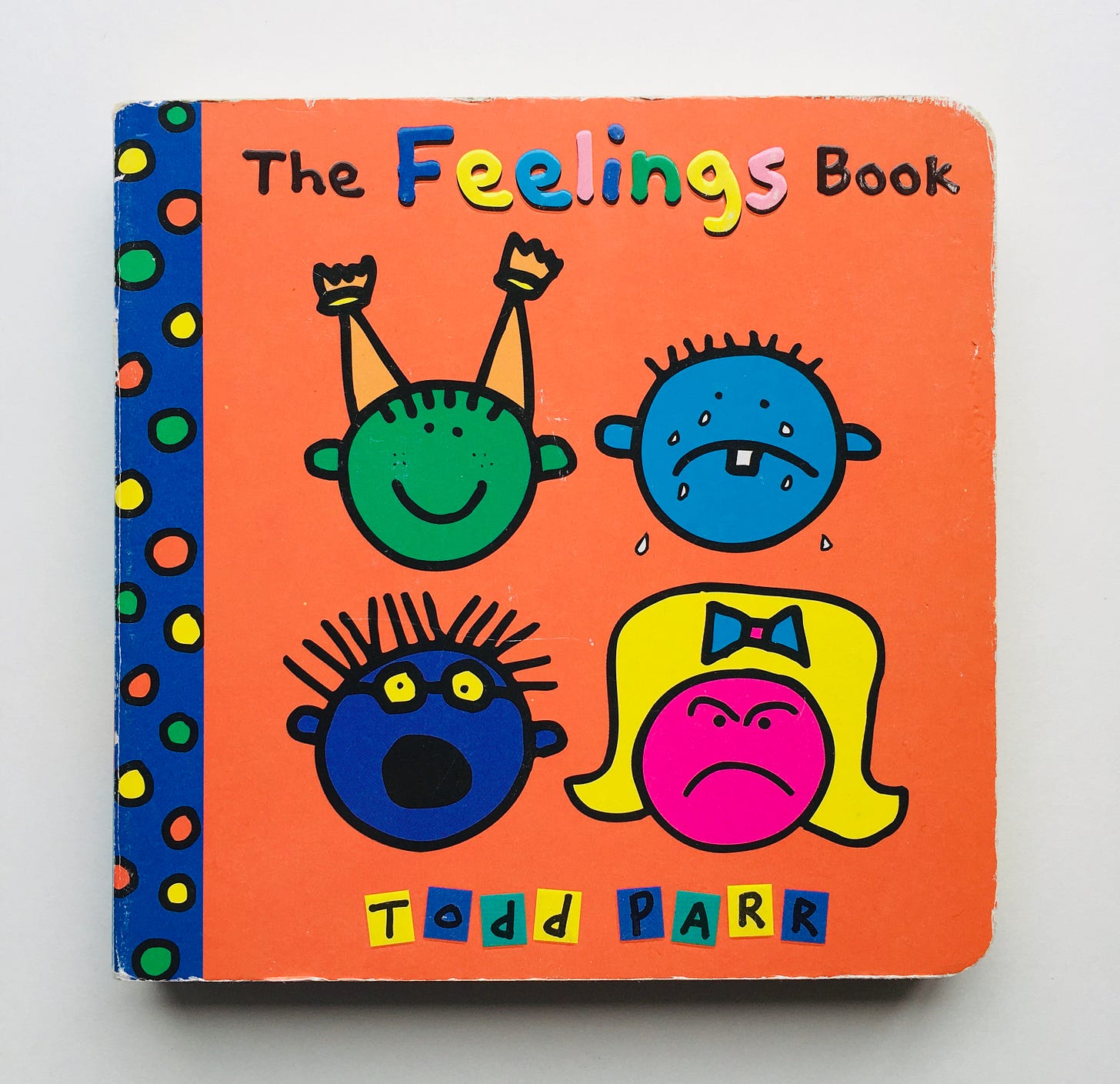 You never have to wonder what Todd Parr's books are about, because he tells you right there on every cover. The Feelings Book is no different, by which I mean, you know what it's about right away, and it's just as excellent as all his other titles. Why are they all so good? To be honest, for awhile I didn't understand the appeal of Parr's books, but since they resonate with every child I know including my own, I kept giving them a chance. One day it hit me: Todd Parr is perhaps the most empathetic author out there. His books are about things that matter, not just to kids but to humans, and whatever the topic — being different, saying goodbye, making mistakes, being kind, having a family, feeling feelings — he gets it, REALLY gets it. And we all need that, no matter who we are or what our age. ("Sometimes I feel cranky." "Sometimes I feel like staying in the bathtub all day too." Bro, SAME. Do you sense a theme? I am 70% irritability.)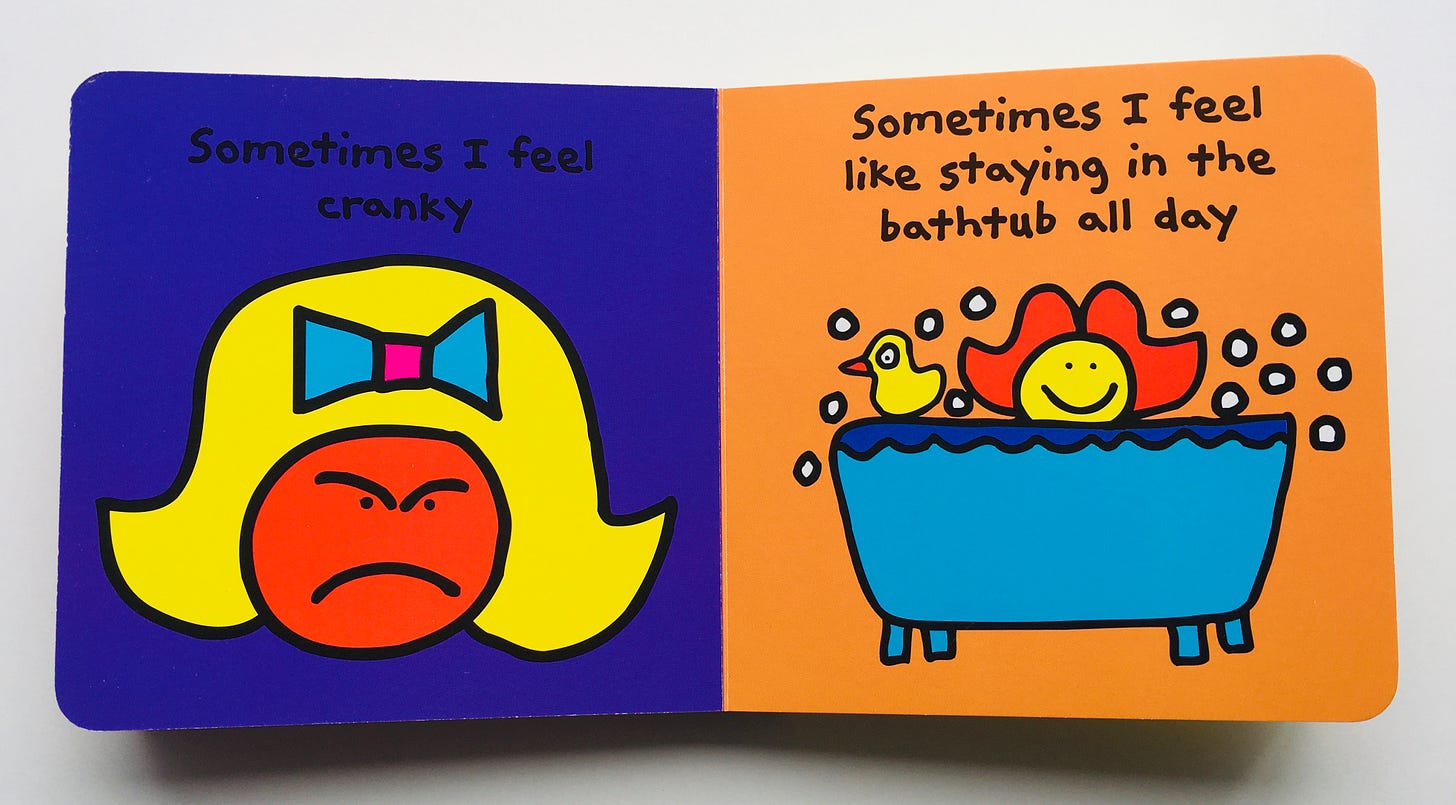 ---
Dory Fantasmagory
by Abby Hanlon (2014)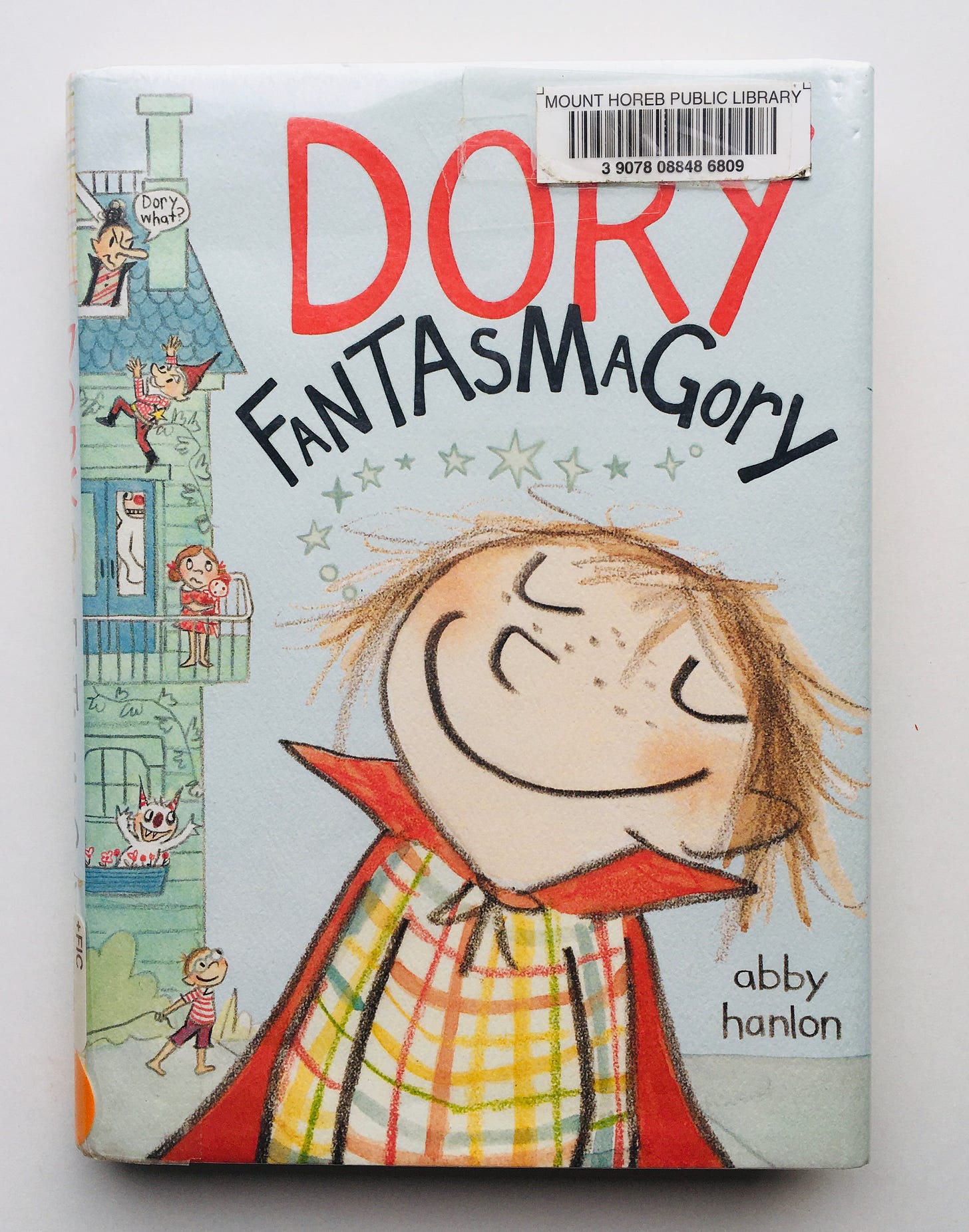 I keep careful track of things (books, movies, jokes; there's an actual spreadsheet) that make my children laugh out loud. I also pay attention to whatever causes the same reaction in me. In the Venn diagram of their interests and mine, Dory Fantasmagory lies squarely in the overlap. Dory, a six-year-old so unruly her family nickname is Rascal, is the hilarious, brazen and utterly charming heroine of this book (the first in a series), which revolves around Dory's fraught relationship with her siblings and a variety of different creatures that populate her world (including a villain named Mrs. Gobble-Gracker whom Dory shoots in the butt with darts and attempts to feed poison soup, and Dory's fairy godmother, a male gnome named Mr. Nubby who can be reached by "calling on any banana.") Neither my children nor I can keep it together when I'm reading this out loud, which is pretty much my highest compliment when it comes to books we share.
---
That's all for this week but I'm wondering: what are you reading with the children in your life right now? I'd love to hear.
---
If you like this newsletter, please consider forwarding this post to a friend👇 or sending them the link to subscribe. (Thank you!)